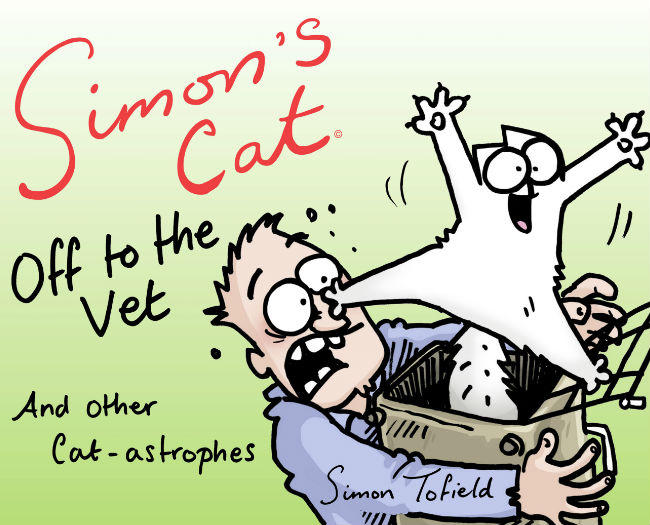 SNAPSHOT
In this brand new book we see Simon's Cat face any feline's most dreaded scenario – he's off to the vet. And he's not at all happy about it. The book shares its theme with the first ever full colour Simon's Cat 12 minute longer format film (to be released in 2016), which was funded by a record-breaking IndieGoGo campaign, Simon's Cat: Off to the Vet is packed with over 240 pages of hilarious new gags featuring our favourite furry friend and his companions – both old and new. (official synopsis via Laughing Squid)
I love cats.
Always have, always will.
There's something about their unwillingness to play by the warm-and-fuzzy rules to which dogs, God bless 'em (and yes, they're adorable too) wholeheartedly subscribe, that thoroughly endears them to me.
Simon's Cat has always struck a chord with me because creator Simon Tofield, a man who owns 4 cats himself, perfectly captures this manic, hilarious, gorgeous contrariness, and done so in ways that are instantly recognisable and downright hilarious.
And now he's back with a new book Off to the Vet … and Other Cat-astrophes, along with a 12 minute animated film that he produced with the assistance of funding via an Indiegogo campaign.
It's beautifully drawn, very funny and makes anyone who has fallen in love with cats and their amusingly irascible ways fall in love with them all over again.
(Even those of us who have had cats escape from the cat transport box in the garden of the vet and had to run across 4-5 yards to recapture an understandable freaked-out cat.)
Oh, and dog owners? Probably best you look the other way while cat owners put their feet up, have a good laugh and give thanks that the next cat visit is thankfully some ways off yet.