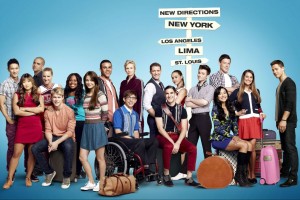 I will admit it.
I am tad behind viewing the last of Glee's season 3 episodes.
It's not from a lack of enthusiasm at all, but rather the clamour of so many shows baying for my attention. But I have a feeling that these new posters, just released to promote season 4, will light a fire under me and spur me to finish the last few episodes languishing unloved and unwatched on my iPod.
The first poster (see above), which was released, shows the cast sans Quinn (Diann Agron) and Sugar Motta (Vanessa Lengies) and while Sugar's absence hasn't been explained, Ryan Murphy was quick to assure everyone via Twitter that Quinn is still very much a part of the show.

Just before the main poster hit the "streets" of social media-land, Ryan Murphy released this other poster which shows Rachel (Lea Michele) who has gone to New York to pursue her dreams of showbiz stardom with Kurt (Chris Colfer), with her dance instructor Cassandra (Kate Hudson).
It harkens back to the much loved "L for Loser" motif which was used extensively in Glee's season 1 promotional posters.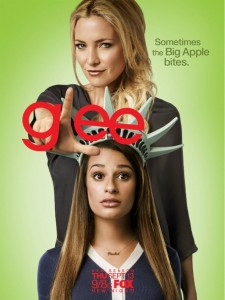 You can view a promo video showing Rachel and Cassandra together here.
Now if you'll excuse me, I have the rest of season 3 to watch before my iPod explodes from all those neglected episodes burning a hole through its sleekly designed casing …