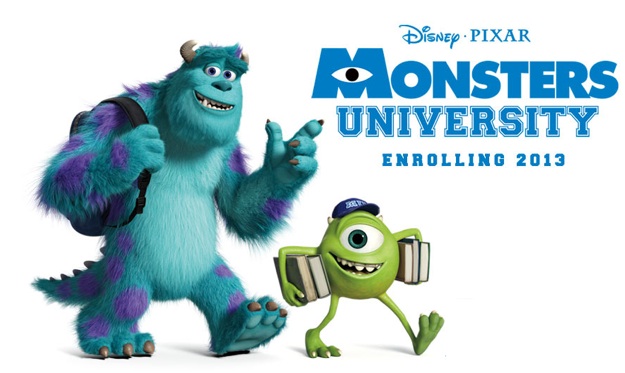 I am a huge Pixar fan.
Ever since my all time favourite animated film Toy Story premiered way back in 1995, triggering a renaissance in animation that hasn't abated since, I have been in love with the gorgeous look, intelligence and humanity of Pixar movies.
Though the production house is now part of the Disney Entertainment Empire, it is still overseen by its founder John Lasseter (he heads the entire animation division at Mickey HQ of which Pixar is an integral part) and has lost a gram of the magic that has powered film like Toy Story (and it's equally inspired sequels), Finding Nemo or WALL-E.
While some of its releases haven't done as well as others – Cars and its sequel and A Bug's Life didn't do as much business at the box office as expected – there's no denying these films have something special and are the gold standard by which other animation releases are measured.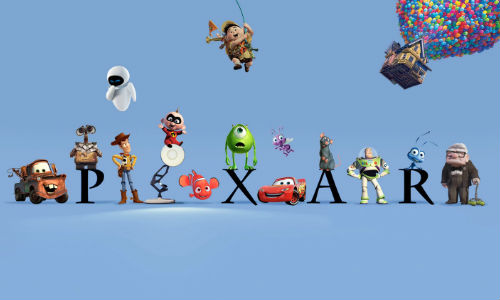 So naturally expectations are high for the next release on the Pixar slate (and not just by me), Monsters University, a sequel to 2001's highly successful M0nsters Inc., which hits screens in June this year.
Functioning as a prequel to the events of the first movie, which saw James P. Sullivan or "Sulley" (voiced by John Goodman) and Mike Wazowksi (voiced by Billy Crystal) working as the top scarers at a company called, you guessed it, Monsters Inc., where they are the original "monsters under the bed", scaring kids and generating electricity for the city they live in (until a young girl follow them back home one day and upends their world), Monsters University shows how the two lifelong friends met as roommates at college.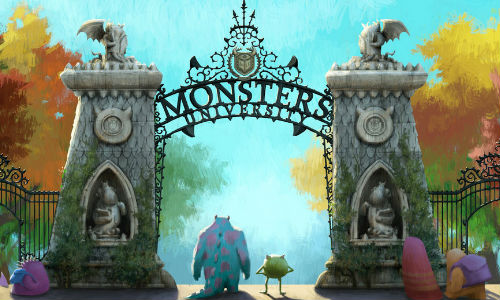 According to the good folks at screenrant.com, it will also feature "Steve Buscemi (Boardwalk Empire) as Randall, alongside new additions like Joel Murray (Mad Men), Julia Sweeney ("Pat" on SNL) and Kelsey Grammer (Boss) replacing the late James Coburn as Monsters, Inc. head Henry J. Waternoose III."
In line with all true and lasting friendships – at least the Hollywood versions of them – it's not smooth sailing at first for the two new college students as the two very different personalities butt heads and engage in a fierce rivalry to come out on top of their Scaring major but they soon realise they have far more in common than not, giving birth to the lifelong friendship we saw evinced so beautifully in Monsters Inc.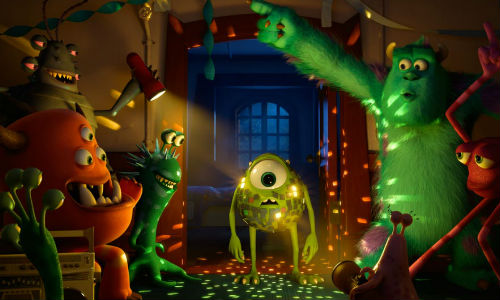 But before all this lovey-dovey warm and fuzzy loveliness comes to pass, they engage in all the usual college hijinks with a cast of characters that mirror the myriad types of people who end up at university – the studious types, the jocks, the party crew, the socially-ill-at-ease who want to re-invent themselves and so on – and you can tell Pixar is having a ball paying homage to all manner of pop culture evocations about college life such as Revenge of the Nerds (one of the films that the film's creators claim inspired them; let's hope in  a lovely kid-friendly G-rated kind of way!).
It looks like it will also have Pixar's deep and abiding love of fast-paced, silly humour and sight gags a-plenty – watching a slug trying to "rush" to class had me in stitches – and no doubt a life lesson in there somewhere too.
While I am always a little dubious – OK a lot; a huge Grand Canyon-esque load of dubious – about any company that starts pumping out sequels and prequels, in this case at least Pixar seems to have brought the same spark of originality, hilarity and joy that marked the first Monsters movie, much as they did with Toy Story trilogy, and so I have high Sculley-sized hopes that the movie will be every bit as delightful as the trailer seems to indicate.
Oh and as always with a Pixar release, there will be a gorgeous, beautifully-reliased short preceding the movie.
In this case, it's called The Blue Umbrella and it is insanely, heart-winningly cute if the very brief snipper below is anything to go by.
How could a dew-eyed blue umbrella and red umbrella falling in love on a cold, grey and yes, rainy day be anything but delightful?
And it all looks like a million bucks thanks to new technology that Pixar is using in both the short and Monsters University that produces a lush, photo-realistic look. (You can read more here if you so desire.)
I think I have fallen in love already …
POSTSCRIPT 15/2/2013): Pixar has released a gorgeous arty poster to go with The Blue Umbrella short and it is every bit as whimsical and sweet as the short itself.