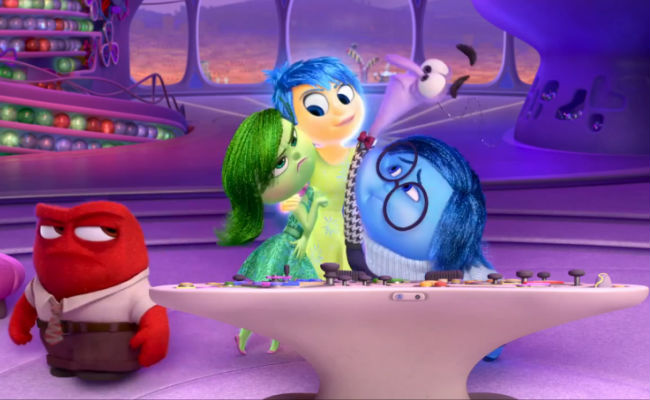 It's been over a year since we last feasted our eyes on some emotionally-rich, well-told feature length animation from Pixar (2013's Monsters University) and I feel SAD (I've missed their beautiful stories) …
And ANGRY (at the wait) … and FEARFUL (there won't be another film ever) … and DISGUST (what took you so long everyone?) …
But now thanks to this teaser trailer for Pixar's upcoming film Inside Out, which debuts in June 2015, I feel JOY (for completely obvious reasons) … and after watching this inspired piece of work, which reference all of Pixar's most moving animated moments (think the Toy Story trilogy, A Bug's Life, Wall-E, Finding Nemo, Cars, Brave, The Incredibles, Monsters, Inc., UP, and Ratatouille) and then poses the clever question "Ever wonder where all those emotions really live?" I could well be moving onto ECSTASY …
No, wait, already there!
We sure have a lot of emotions to contend with in any one day, sometimes any one minute, and it's sheer genius that Pixar has chosen to speculate on what these emotions look like as they whiz around your psyche in some sort of chaotically non-Mr Spock-ian way.
The results, ever with just a minute or less of actual Inside Out footage, are worth every second waiting for the film directed by Pete Docter which takes a peek inside the mind of an 11 year old girl named Riley who has her hands full, so to speak, dealing with Anger (Lewis Black), Disgust (Mindy Kaling), Joy (Amy Poehler), Fear (Bill Hader), and Sadness (Phyllis Smith) where her family move from small town Minnesota to big city San Francisco with all the attention dislocation this brings..
Never have so many competing emotions look so utterly charming, nor a wait so long.
Suddenly I feel SAD again … but then I feel HAPPY that June 19, 2015 isn't too far away!
It's going to be a long 8 months people …