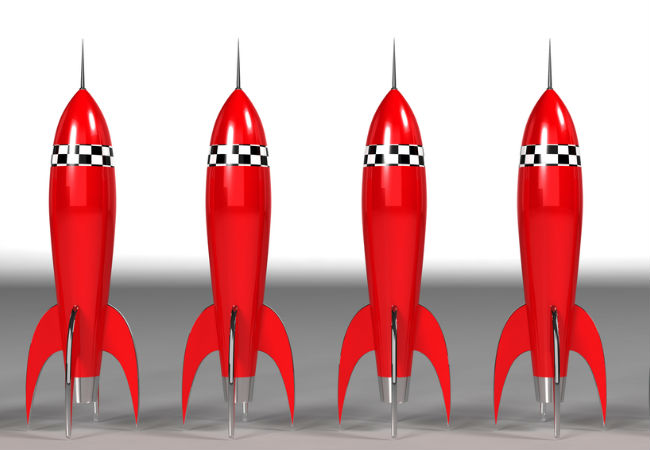 I am huge fan of sci-fi, something which is likely immediately obvious when you see the sorts of shows that regularly pop up on this blog.
There is something about this most imaginative of genres, which by its very nature pushes the boundaries of what is possible often just before ripping right through them, that entrances me.
Whether its stories take place here on Earth or far out in the riches of space, sci fi lends itself to a multitude of storytelling possibilities, as apt to detail wondrous futures of great promise as it is to get down and dirty in the most dystopian of realities.
It is the very essence of what is possible, and its that sense of limitless imagination that captures and holds my attention over and over, and excites me to an almost ridiculous degree.
That's especially the case when shows as amazing as the ones that I am covering today are coming down the pipeline.
THE EXTINCTION PARADE (Max Brooks)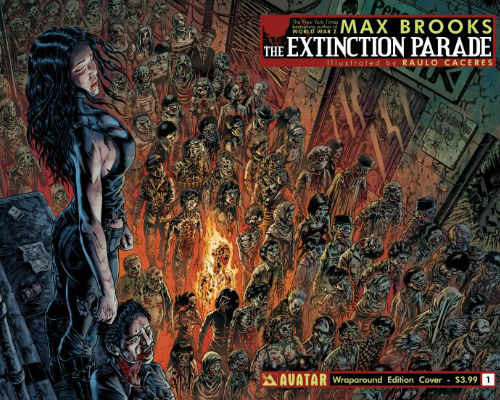 Max Brooks, the man who brought us the insightful look at a zombified world, World War Z, is back with not just zombies but vampires too!
Mash ups of course are all the rage, from the vanilla fun of Once Upon a Time and Sleepy Hollow to the frightening of occasionally camp hard edged storytelling of True Blood, and the best selling author's latest effort, The Extinction Parade sounds like a more than worthy addition to this post modern melee.
Set in a world caught in the full nightmarish throes of a zombie apocalypse, with humanity being decimated at every turn, Brook's new Avatar Press comic book series tells the story of the war between vampires, who fear the loss of their food source, and the undead, who are consuming it at every chance possible.
Of course, yet again mankind is caught squarely in the middle, all of which makes for juicy, engrossing drama, a perfect fit if ever there was one for television which is zombie mad at the moment with shows like AMC's The Walking Dead, Frances's The Returned and UK's In the Flesh dominating the ratings.
While all we know at this stage, thanks to Rich Johnston at Bleeding Cool is that "[The] Extinction Parade is currently in the process of being signed as a TV series for one of the most successful production companies in Hollywood" with no firms news on what form the show will take, or if will happen at all as Matthew Jackson at blastr.com explains:
"Of course, we don't know yet what company has picked up Brooks' series (or if there's even a done deal), what network the show might eventually be on, who'll write it, who'll start in it, or anything else, but as hot as zombies on television are right now, it seems hard to believe someone wouldn't be interested in trying The Extinction Parade in that medium."
It sounds like just the show for a medium entranced with the undead and the supernatural and it can only be a matter of time before vampires and zombies and humans are duking it out on the small screen.
You can read a brilliant interview with Max Brooks about The Extinction Parade at fangoria.com
SENSE8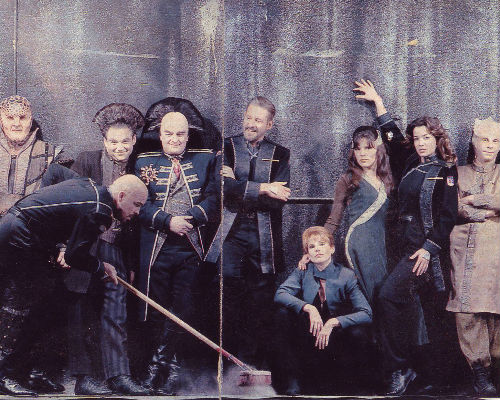 Michael Straczynski, the man who brought us the amazing space opera Babylon 5, is back with a show that sounds every bit as expansive and narratively rich as its predecessor.
Sense8, a 10 part series which the master sci fi storyteller is bringing to television via streaming service Netflix, and in partnership with Andy and Lana Wachowski  of Matrix fame, explores what happens when eight people in far flung locations around the world suddenly develop telepathic abilities, triggering personal crises and a variety of reactions from an astonished world.
It sounds like a gloriously clever mix of X-Men, The Tomorrow People (a show I loved as a child and which is currently screening in a lacklustre modern incarnation) and yes even Heroes (first season only thank you) and Straczynski has some amazingly complex and exciting concepts underpinning the new show, as quoted by Trent Moore at blastr.com (via Spinoff Online):
"We started out at one point talking about how evolution involves creating ever greater circles of empathy: You belong to your family, then you belong to your tribe, then two tribes link up and now you have empathy for your people on this side of the river, and you're against the people on the other side of the river … on and on through villages, cities, states and nations. One day we'll hit the planetary level but we're not there yet. So what if a more literal form of empathy could be triggered in eight individuals around the planet, in India, the U.S., London, Mumbai, Nairobi and elsewhere, who suddenly became mentally aware of each other, able to communicate as directly as if they were in the same room.

How would they react? What would they do? To what degree could they accept each other? What does it mean? And what would the world think about people with this ability? Would they embrace it, or hunt them down as threats to our own evolution? How would they survive? It would give us a perfect platform to do a show that was loaded with action, big ideas, some amazing stunts that no one's done before, and play to a planetary audience."
He is promising that it will look every bit as lavish and impressive looking as you would want an idea this richly detailed and intelligent to be:
"We plan to block shoot this as a 10-hour movie, and the best part is that we're going to be shooting in the very same locations we describe, meaning we don't fake Mumbai, we go to Mumbai, we go to Nairobi, we go to London. The plan is to shoot as much as we can on stages in Chicago, then the Wachowskis, I and two or three other directors will blitz out and shoot simultaneously in seven different countries, taking along the appropriate cast."
Am I excited? Yes I am.
I mean, you can sense that can't you? Of course you can.
FIREFLY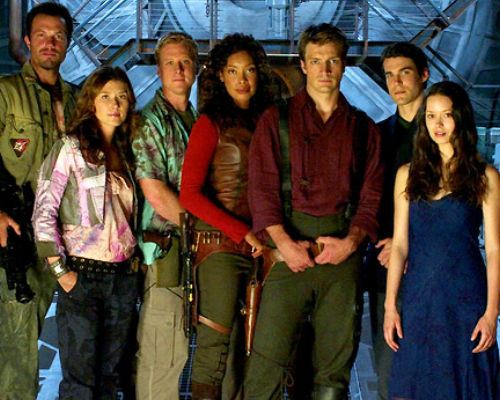 Firefly, from the insanely creative mind of Joss Whedon, is a show to which it is easy to become hopelessly addicted.
Possessed of a rip-roaring flawed good guys vs. bad guys cowboys meet the future premise, fully fleshed out characters, superb top notch writing and world building par excellence, there was a great deal to admire about it and much to mourn when you realise it was cancelled well before its time.
Before you know it, one episode turns to 13 and a movie, Serenity, and you're an official Browncoat desperate for more episodes of Malcolm "Mal" Renolds (Nathan Fillion) and the rest of his motley crew and passengers onboard the Firefly-class ship Serenity on the ragged Western-like edges of known space.
While there is no indication that it will resurrected either for TV or the movies in the foreseeable future, it does live on in a role-playing game (2005), and of course comics, with a new instalment in the comic book series entitled Serenity: Leaves on the Wind due in stores on January 29, 2014.
It picks up the compelling narrative of Firefly nine months after the events detailed in Serenity, and includes the addition of one new crewmember, heavily rumoured to be the baby of Zoe (Gina Torres) and Wash (Alan Tudyk), according to Shaun leonard, writing for bleedingcool.com.
Written by Joss Whedon's younger brother Zack, with art by the renowned Georges Jeanty, it is a chance for Browncoats everywhere to spend some more time with a crew we have come to know and love.
According to Jeanty, Zack has nailed the feel of the characters despite the understandable lack of involvement by the in-demand Firefly cast in the comics:
"Zack really has the language. You can tell the characters just by listening to them … I'd love to sit with them when I have a particular script and pick their brain from time to time."
As for whether the continuation of the adventures of Firefly's crew in the comics puts paid to any idea to any further TV or movie instalments, this is all Jeanty could offer in lieu of firm word from Joss Whedon:
"… I thought, especially when Joss was on it, this was something where if there was gonna be a film, he was working it out in comics first."
Whether or not Mal and his crew make it back to the small screen, the fact that they are alive and well in the comics universe gives me and a host of Browncoats hope that the impossible may still one day happen.