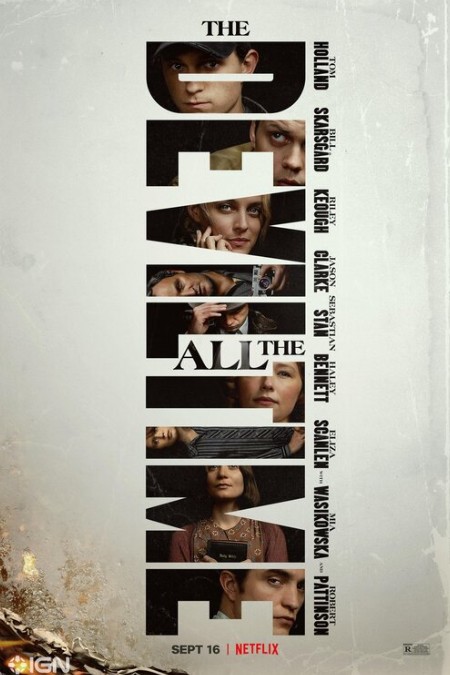 SNAPSHOT
In Knockemstiff, Ohio and its neighboring backwoods, sinister characters — an unholy preacher (Robert Pattinson), twisted couple (Jason Clarke and Riley Keough), and crooked sheriff (Sebastian Stan) — converge around young Arvin Russell (Tom Holland) as he fights the evil forces that threaten him and his family. Spanning the time between World War II and the Vietnam war, director Antonio Campos' THE DEVIL ALL THE TIME renders a seductive and horrific landscape that pits the just against the corrupted. (synopsis via Flickering Myth)
Tempting though it is to put on rose-coloured glasses, and wrap ourselves in fairytales, fairy floss and sugar & spice and all things nice, the stark reality is that life is brutal …
… and hard and cold and nasty, and though we might have people who love us and circumstances worth of hope and warmth, the truth is that life is often a gothic horror freak show with a few Hallmark moments to break the flow of darkness and pain.
Sound too grim? Then you haven't been paying attention to 2020, or life generally, but writer Donald Ray Pollock, who penned the novel The Devil All the Time, and Antonio and Paulo Campos who have it into a screenplay and now an upcoming film on Netflix, certainly have, and the results look damn impressive.
Can anything good emerge from a world where evil too often seems to best good? We can only hope, and in the meantime, sit down and watch this film which promises, if not easy answers, then an interesting ride into the underbelly of life, the universe and everything.
The Devil All the Time releases 16 September on Netflix.