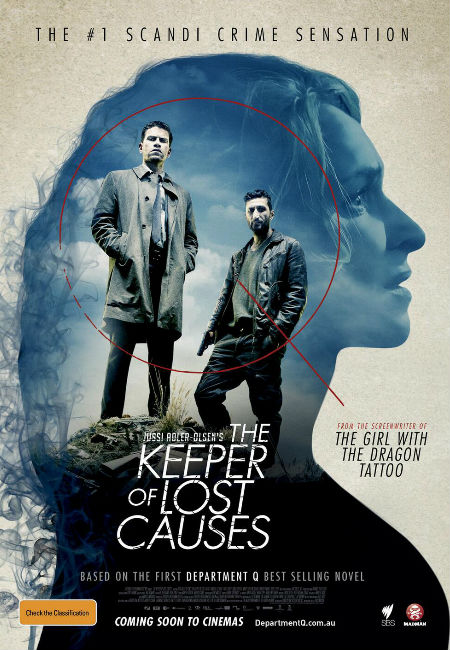 SNAPSHOT
Following a shootout that left his two partners respectively dead and paralyzed, chief detective Carl Mørck (Nikolaj Lie Kaas)  is assigned to the newly established Department Q, a department for old, terminated cases. The department consists only of himself and his new assistant Assad (Fares Fares). Although they get explicit orders to only read and sort through the cases, only a single day passes before Carl's stubborn nature throws them headfirst into the mystery of Merete Lynggaard's disappearance; a well-known female politician who vanished five years ago from a passenger ferry. The only witness is her brain-damaged brother who was found on the car deck, screaming at the top of his lungs. The case was put to rest as an apparent suicide. Unconvinced by this explanation Carl and Assad venture on a journey that will take them deep into the undercurrent of abuse and malice that lurks beneath the polished surface of Scandinavia. (synopsis via Coming Soon)
What is it about the genre variously known as Scandi-noir or Nordi-noir that has people so ready to down tools at a moment's notice and devote hours at a time to fascinatingly dark and convoluted storylines in TV series like The Killing or The Bridge, books like The Girl With the Dragon Tattoo, the first book in the Millenium trilogy by Stieg Larsson or now the movie The Keeper of Lost Causes, based on the book by Danish author Jussi Adler-Olsen?
Is is the blurred lines between good and evil that render the cops almost as morally ambiguous as those they are investigating? The grim authenticity of the societies in which they take place? The take no prisoners attitude of the very much less than perfect, often wholly capable female protagonists? Or the starkly beautiful, attractively gritty visuals?
Whatever it is, and The Sydney Morning Herald gives divining its appeal a red hot go, it is the IT genre of the moment, likely because it dispenses with the glossy good vs bad divide of much of US and British TV drama, and gives us characters that are flawed, scenarios that demand a certain amount of introspection rather than simple delivering obvious outcomes, and a sense that we have been plunged into a world that is beautiful and yet dangerous all at once.
It is a master stroke of storytelling and one that The Keeper of Lost Causes, or Kvinden i buret in its original Danish, uses to brilliant effect, setting an intriguing whodunnit against a world where the so-called good often suffer at the hands of the so-called bad, injustice, poor decision-making and social ennui prevails, and there is precious little to be done about it.
Or is there?
Chief detective Carl Mørck, the odds stacked against him, and consigned to the bowels of the crime-solving earth by his superiors after an horrific incident sees one partner dead and another paralysed for life, can't quite give in although everything about his rapidly deteriorating life suggests he should do so, and decides it is possible to fight back.
If not for himself, then at least for the missing politician who after five years has been chalked up as just another suicide statistic and nothing else, even though as the trailer makes clear she is very much alive and in mortal danger at the hands of a sadistic killer.
And as Patryk Czekaj at Twitch Film makes clear in his review, there's a great deal to like in a tale even as harrowing as this one:
"What I found really compelling about The Keeper of Lost Causes were the unsettling atmosphere, great locations, and a remarkable contrast in tone and in color between the two narratives. Morck and Assad are mostly seen working in the open air, where environment looks rather safe even when the colors appear to be distinctly bleak. During the retrospections of Merete's imprisonment, though, you can find yourself gasping for air. The disturbingly claustrophobic place is gloomy, slimy, and oddly green-colored, and there's no notion of life whatsoever even when we observe Merete's disturbing struggle to survive with much anxiety."
A hit in its native Denmark, The Keeper of Lost Causes looks like being one of the most engrossing, visually rich and morally intriguing films of the year.
The Keeper of Lost Causes opens in Australia on 31 July 2014.