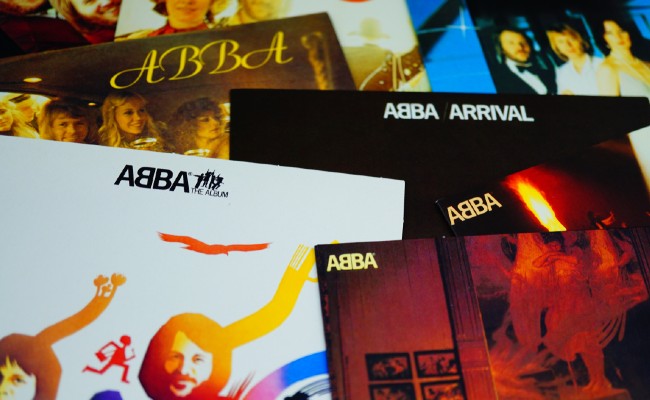 There is a popular perception of ABBA out in the general public of a Swedish group who were perpetually upbeat and sunny and whose music, composed of rich melodies and luscious harmonies, courtesy of the combined superlative vocal talents of Agnetha Fältskog and Anni-Frid Lyngstad, was the stuff of endlessly effervescent pop moments.
While that is true to a reasonable extent with songs like "Dancing Queen", "Mamma Mia", "Nina, Pretty Ballerina" and "When I Kissed The Teacher" all froth and happy bubble, ABBA, like many other Scandinavian music artists, operated in a creative world where light and dark were very much everyday companions.
Thus you could have a song with a sunlit melody co-existing happily and to great effect along darkly introspective or melancholic lyrics.
Or, in the case of the five songs, songs possessed of fire and energy, of a sense of spirited defiance that acknowledge something troubling or unhealthy or just plain wrong and rose up to oppose it with insistently contagious beats, stark but affecting emotional resonance, and lyrics that cut through the dross and got straight to the heart of the matter.
It is immensely clever pop and it is one of the reasons why I love ABBA and why they continue to speak powerfully to people today.
Released as the lead single from ABBA's 1975 self-titled album, "So Long" is a glorious declaration of independence by a woman who refuses to be swept up in the romantic machinations of a man clearly well-used to getting what he wants. He throws money, charm, flowers and gifts around like they're going out of fashion but the protagonist of this high-powered full-speed ahead song is having none of it, declaring:
"You think you're gonna make me sulk, you and your fancy car, ah-ha-ha
But I can tell you honey your tricks ain't gonna get you far, ah-ha-ha
They say that money's got a magic touch
But not to me, it doesn't mean that much
You won't have me tonight
All right, all right, all right, all right."
Possessing, according to Carl Magnus Palm in ABBA: The Complete Recording Sessions, "the same rhythm and virtually the same exact tempo" as 1974's career-defining, Eurovision Song Contest-winning song "Waterloo", "So Long" may not have lit up the charts (it was the pick of record companies as a single while ABBA wanted "Rock Me") but it is a fast-paced rollicking statement of one woman who knows her own mind and heart and is unwilling to let it hand over her body to a man who clearly wants nothing more than another notch on the bed.
Growing up in a Christian household and largely surrounded by cultural influences that if not specifically religious, at least promoted an optimistic, inspiring view of life, encountering a song like "Elaine" was a complete and utter revelation. ABBA were deemed acceptable by my parents because of their squeaky clean image and "happy" songs but "Elaine", the B-Side to the desperately sad 1980 single "The Winner Takes It All", was none of these songs, a track that spoke of paranoia, fear and loss, described by Carl Magnus Palm, again in ABBA: The Complete Recording Sessions thus:
"The song is about someone who's trapped, 'like a goldfish in a bowl' and however much she tries to escape, she can never quite free herself of her captors … it's never made clear who these people are or why they are so determined to keep Elaine captive."
It accompanied by a pounding, snarling, almost frantic melody that and while the song doesn't really address how Elaine responds to this near-constant invasive threat, the song always felt to me, as a teenager trapped in my very own religious goldfish bowl, like a fighting song of some kind, if only because its melody and tempo left you feeling so riled up that you felt like you could take on the world. I finally stood up to my captors and I can only hope Elaine did too, emboldened by the power and energy of her very own song.
Put the pedal to the medal on this track, people! Lifted from ABBA's 1980 album Super Trouper, "On and On and On" is a full tilt, tireless rush to the finish line, a paean to staying the distance in the midst of a night of heady partying and defying the morning for as long as humanly possible. Every last bit of the melody and the lyrics evoke this defiant state, which is bundled up in a song so captivatingly intense that you can't help but be swept up into it and surrender to what comes along.
"On and on and on
Keep on rocking baby
'Til the night is gone."
Described as a "rock number – almost" by Benny Anderson (ABBA: The Complete Recording Sessions), one half of ABBA's much-lauded, and justifiably so songwriting team, "On and On and On" is energy, passion and a defiant screw you to a world which is going mad and makes no sense, to which the only sensible response seems to be to just do what comes naturally on the night and to hell with the consequences.
An exuberant upbeat track, "Head Over Heels" from ABBA's eighth and final studio album The Visitors (1981) may have not have performed as well as earlier singles, only reaching #25 on the British charts after many years of consecutive top 10 chart placings, but it won my heart because it embodied a life attitude I was desperate to take on and make my own. Growing up in the church, and under the watchful eye of people who had very firm ideas on what a pastor's son should and shouldn't do and say, I felt a constant need to play to the critical crowd. How I wished when I heard this song that I could have Frida's devil-may-care approach to life:
"She has a personal style
Some people love it others tend to go wild
You hear her voice everywhere
Taking the chair
She's a leading lady
And with no trace of hesitation she keeps going."
There was some utterly beguiling about a song that seemed to throw all care to the wind and just go with what felt right. Described by Carl Magnus Palm (ABBA: The Complete Recording Sessions) as "one of those typical happy, up-tempo, tongue-in-cheek songs … like 'Mamma Mia'", which for all its vivacity the other half of ABBA's songwriting duo Björn Ulvaeus says "doesn't quite get there", "Head Over Heels" still speaks to me on a very deep, primal level, demanding that I kick other peoples' concerns to the kerb (nicely and respectfully but kick nonetheless) anytime I feel myself succumbing to pressure and judgement.
"Laugh or Cry" is brilliantly, goosebump-inducingly intense. Released as the B-side to 1981's single "One of Us", the track is supposedly about the bleak end of a relationship, one which crackles with a bitter dismissal of everything the singer once valued in her partner. But as I listen to it now, many years after I first heard it, there seems to be an almost emotionally abusive quality to the rapidly-fracturing relationship with the woman finally standing up to a person who had made her life hell for years.
"Tells me
I must take him seriously
Droning on the usual way
He's such a clever guy
And I wonder
Should I laugh or cry."
It's not completely defiant with Christopher Patrick Tesch remarking in his book ABBA : let the music speak : an armchair guide to the musical soundscape of the Swedish supergroup that "volatile and pitiless" verses give way to a more reflective, "tender and forgiving" chorus. Which makes sense; when you're in the final stages of walking away from something in which you're heavily invested and which once meant the world to you, it's inevitable that even the most newly-committed to a particular course of action people will sometimes have cause to doubt their resolve. But so militant and angry is this melodically-beautiful and contemplative song that you can't help feeling that even if there is wavering involved, the deed will finally be definitively and irrevocably done, and this hauntingly atmospheric song will be its eternally fitting soundtrack.