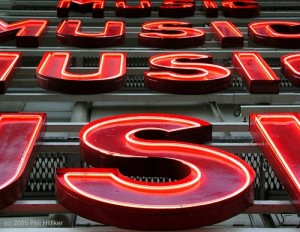 Time for another dive into the pools of musical goodness and see who has been creating beautiful music in the last little while.
So sit back, strap on the headphones – memo to self: must get the ginormous ones so large that if they fell from my ears whole derelict neighbourhoods would be crushed to dust – and lose yourself in this week's exquisite dose of Sonic Bliss …
ELLIE GOULDING: "Anything Could Happen"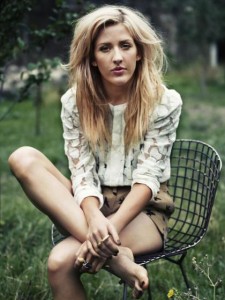 Hailing from Lyonshall, a small village near Kington in the UK, Ellie Goulding has made quite a splash on the musical scene since releasing her first single, "Under the Sheets" as a digital single on 15 November 2009.
She followed that song up with her debut album Lights in March 2010, which has been through a few permutations since, most notably as Bright Lights in November 2010, which sported six additional songs including "Your Song" which Ellie had the honour of singing at the wedding reception of Prince William and Kate Middleton.
Suffice to say with that kind of attention following her, and musically-themed advertising campaigns for the likes of Nike – the EP Run Into the Light which contained remixes of songs from Lights was released in August 2010 – anticipation is high for new album Halcyon which debuts on October 8, 2012.
It has been preceded by the otherworldly upbeat groove of "Anything Could Happen", a synth-drenched track so insistently catchy and poppy that it is refusing to leave the virtual turntable that is my iPod and has been whizzing around for weeks now. It has been described thus on the excellent  The Prophet Blog:
"Poetic and realistically optimistic, Ellie puts a twist on the typical breakup-themed pop song with this open-ended exploration of love and moving on. Fuzzy synths are swathed over folky piano and shots of electronica zip through uplifting refrains, giving "Anything Could Happen" the soul of a classic singer-songwriter record with the sound of today's chart-friendly pop.

When the keyboard isn't doing the talking for her, Ellie's either revealing the quirky rasp in her lower register or singing as high as she can go, finally finishing the song in an epic blaze of glory with a full-fledged fist-in-the-air-and-shout moment."
Seriously it is that good, and has me salivating with excitement at the thought of all the synth pop lushness to come in just over a month.
MIKA: "Make You Happy"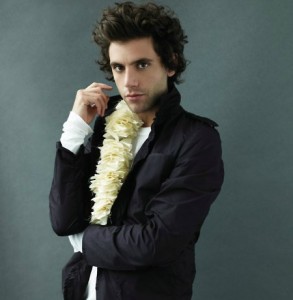 Talk about flying under the radar!
Mika, real name Michael Holbrook Penniman, Jr., has managed something I never thought possible – quietly released a series of tracks in preparation for an album release that caught many music obsessives including me well and truly by surprise.
While low key releases might seem completely out of character for the artist who shot to fame on the back of monster hit album, Life in Cartoon Motion in 2007 with lead single "Grace Kelly" sweeping all before it – some might see it as the equivalent of Lady Gaga going out in public in tracky daks and a hoodie after dark to avoid being seen – it is entirely in keeping with an artist who off stage is relatively low key and family-oriented.
And frankly in today's frenetically paced and information-saturated pop culture universe where being surprised by anything is a rarity – see how surprised I was here – having a new release by an artist this talented sneak up on you is a joy.
As is the song "Make You Happy", a joyous frisson of synth and auto tuned pop that transcends its admittedly infectious electronic roots and radiates a warmth and happiness that has you grinning ear to ear every time you hear it.
Mika has stated in an interview with Digital Spy that his new album The Origin of Love, to be released 6 September this year, will be ""more simplistic pop, less layered than the last one" and "Makes You Happy" certainly fits in with aspiration. It is pure and simple pop to delight the senses.
I dare you not to smile when listening to it.
RUBY FROST: "Water To Ice"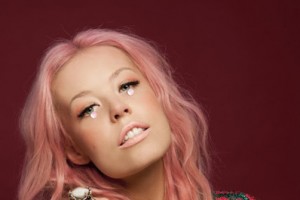 Hailing from the fair climes of Auckland, New Zealand, just "across the ditch" as Aussies like to say, Ruby Frost released her debut single, "Moonlight" in December 2010 after winning nationwide MTV 42Unheard competition in 2009.
As evidence of her songwriting prowess, which shines through in "Water to Ice" bright and clear, she also won the Grand Prize for the Pop category in Section I of the international 2010 John Lennon Songwriting Contest with another song completely "Hazy". (Thanks to wikipedia for these fabulous facts.)
So clearly she is a talented lady, and she comes with a voice powerful and nuanced enough to deliver "Water and Ice" with all the emotional urgency it demands. It also has a mystical Kate Bush-esque anthemic quality to it that sends shivers up and down the spine and will ensure this is one of those songs that stops a concert as people soak up the emotion-charged moment it effortlessly conjures up.
It is also pop of the highest order – pure and untrammelled – and marks this young lady as one to watch especially with a song this compelling as a lead single.
I am looking forward to her much-awaited debut album, Volition, dropping in the next few months.
M– USE: "Unsustainable"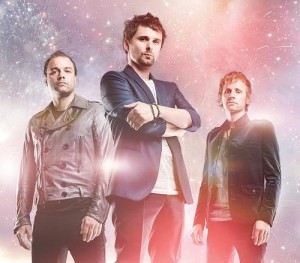 There is a grand mythic operatic feel to the first single from Muse's new album 2nd Law that screams big blockbuster movie moment in the dusk-laden forests of some northern European country … and that appears to be exactly what Muse have gone for in the official clip.
When the band announced that their first single would have a Skrillex quality to it – Skrillex, the stage name of electronic music producer, Sonny John Moore, is known for his hardcore-influenced electronic – many fans were simultaneously intrigued and concerned, wondering what this meant for the band's sound.
What it means, my friends, is that Muse have simply amped up the soaring theatricality of their music, which was always evident in tracks like "Undisclosed Desires" and "Resistance" (they have always been known for their love of merging many genres like alternative rock, classical music and electronica) and it works well for them.
"Unsustainable" draws from this wellspring of majesty and occasion, and their inherent knack for melodic richness, transporting you to places far away where a sense of romantic urgency prevails.
Oh and where apparently Cylons live too. You have been warned.
FRIGHTENED RABBIT: "State Hospital"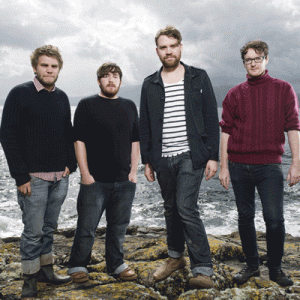 The raw quiet beauty of Frightened Rabbit's music can be deceiving.
Don't get me wrong – it is beautiful and their sound is fragile and haunting. (It makes sense that the music would have this quality since lead singer and songwriter for the band, Scott Hutchinson, who hails from Selkirk, Scotland, along with the rest of the band, named the band after a nickname his mother gave him when he was younger to describe his shyness.)
But there is a robustness to it too – both melodically and lyrically. The band aren't afraid to make a statement or several, and you would be underestimating them entirely if you equated a softer folk-tinged sound with any lack of vision or emotional rigour on their part. They aren't afraid of laying their hearts on their line, telling it like it is; they are just as willing to declare "life is shit" as "life is wonderful" and that makes them a complex and rewarding band to listen to.
Take that sharp, honest songwriting and add in the evolution of their alt-folk sound to include some extra rock-oriented bells and whistles, and it's no wonder that "State Hospital" is such an inspired creation.
So which songs are going to go flying into your iPod with unseemly haste?