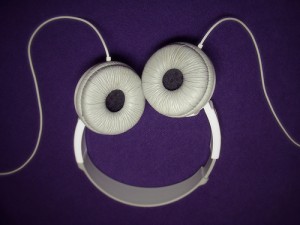 Ah spring … or autumn/fall if you live in the top half of planet earth … and the torrent of music that washes over during the year becomes a flood of Noah-like proportions as we head into the festive shopping season.
So you can expect way more Sonic Bliss posts than usual over the next few months as I bring you so much wonderful new music that your ear drums may likely burst with joy from all the pleasure.
No, seriously that is a good thing – I even provide you with a mop and bucket to clean up the mess –  as are the five new songs I have for you …
LITTLE BOOTS: "Headphones"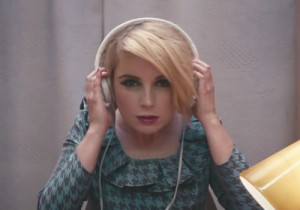 Little Boots is back and what an entrance she has made.
But then ever since the release of Hands in June 2009, when she was part of an almost tidal wave-sized group of young women paying homage to the 80s in their music – think Lady Gaga, Florence and the Machine, Ladyhawke to name a few – she has been a distinctive part of the electro-pop scene, rising head and shoulders above many of her contemporaries.
She is that rare beast of a charting artist who doesn't sound like she rolled off a synthesised music production line, musical cookie-cutter in hand, straining to sound like everyone else out in the pack. Which is good thing since when your pack contains the likes of Lady Gaga, since playing the party of artistic copycat means you will likely get lost in the lookalike crowd, and if you are noticed, you won't stand out for long.
So Little Boots, or as the good people of her hometown Blackpool call her Victoria Christina Hesketh (but only when she's in trouble no doubt), has sensibly concentrated on a delivering a distinctive bright electro pop dance beat in her songs, with the occasional meaningful ballad thrown in for good measure such as "Every Night I Say a Prayer", made all the more distinctive by a voice so light and playful it fairly skips across the notes it's accompanying.
This song, which comes with one of the best clips I have seen in a while which is all about finding your true self on the dance floor – it's not as glib as it sounds; watching the timid, battered-down-by-life souls come alive to the music is almost inspiring and actually moving – carries it with a hefty dose of funk, the most hypnotically fun "La la las" in a chorus I have heard for a long time, and a driving bass beat that will propel you onto the dance floor before you have even finished laced up your glittery dancing shoes.
Seriously why aren't you there already?
DRAGONETTE: "Live in This City" / "Rocket Ship"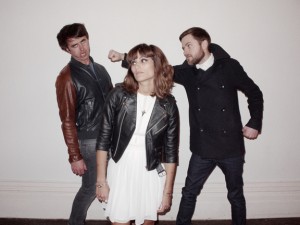 What a voice does Martina Sorbrera have!
The lead singer for this Toronto-based 80s-inspired indie electro pop outfit, along with bassist and producer, Dan Kurtz, and drummer Joel Stouffer, infuses every single song she sings with a jangly sensuousness that fairly leaps out of the speakers with crackling energy each and every time.
That is definitely the case with not one but two songs – goodness always comes in infectiously catchy pairs right? – "Live This City" and "Rocket Ship" – the first of which pounds the pavement with a fervent declarations of owning this city and acting like you do (with more than nod, though not one of slavish mimicry to Jefferson Airplane, who I hear built a city on love once), while the latter bubbles along with dirty synth beats before exploding into an insistent upbeat chorus that will not let you go till presumably you have ridden said spaceship into the stratosphere.
They are one of the most original, consistently listenable bands out there at the moment. It doesn't seem to matter what they sing about or at what tempo – you can't help but listen, or dance along, and who knows, they may also prompt an insanely insistent urge to build a rocket ship one of these days …
PET SHOP BOYS: "Ego Music"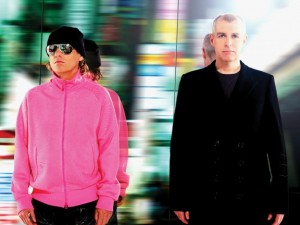 Everyone's favourite electronic dance music duo, who were last seen careering around the Paralympics closing ceremony in a chariot, return this month with their new dreamy-sounding album Elysium, which sees Neil Tennant (vocals and keyboard) and Chris Lowe (keyboards) shifting things down a notch musically, but still retaining the intense lyricism that has been their hallmark since day one.
The latest single, "Ego Music", follows this tradition of not pulling any punches lyrically. In a song they maintain is not aimed at anyone in particular, and which was originally written with a much tamer set of lyrics, they allow their razor sharp satirical observations of today's modern pop star to run free.
Says Neil of the song in an interview with Attitude:
"It's not specifically about Lady Gaga, it's about the modern pop star. Pop music is very ego-driven these days. The modern pop lyric is like a diary almost. In other words, people don't imagine, they just say what it is… A lot of lines [in the song] are direct quotes from what people say in interviews. 'I am my own demographic' is a direct quote."
It matches the mocking tones of songs like "Yesterday" and marries it with a mid tempo melody that is characteristic of the album it comes from as a whole. Lushly produced, and suffused with the achingly beautiful melancholic tunes the Pet Shop Boys excel at, Elysium (meaning bliss/happiness or the location of Norse afterlife) is a rich tapestry of emotions, some regretful, some mocking but all bitingly intense, embedded in music of rare quiet beauty.
This song, and its siblings suggest a late night vibe that suggests sitting in a bar in the early hours of morning pondering the meaning of life and the state of your own life, and doing with the sort of articulate insight that most people long to emulate.
So find a small bar somewhere, order a drink or two, and drift off into a world that may be chilled and beautifully expressed but is never, ever boring. Like you ever expected the Pet Shop Boys would be.
CYMBALS EAT GUITARS: "Hawk Highway"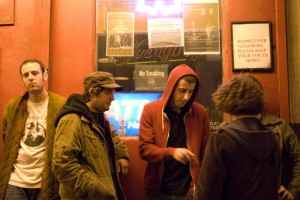 What kind of indie rock band are you aching to listen?
One from Staten Island? CHECK.
That's composed of two high school friends Jopseph D'Agostino and Matthew Miller? (Yes you must be particular about the names or this snappy opening section will simply not work; so work with me please). CHECK.
And who named their band after a quoted by Lou Reed as he sought to describe the wholly unique sound of The Velvet Underground? CHECK.
Then Cymbals Eats Guitars is the band for you o fussy seeker of new music within narrow parameters.
The thing is, all that frantic checking of boxes aside, is that this band is good. Very good.
Kicking off proceedings in 2007, they quickly created buzz with their 2009 release, Why There Are Mountains, and didn't let up till their latest album Lenses Alien (they love their slightly off kilter grammatically discordant titles don't they?).
Now they're back with a new song, which is HOT off the presses (released mere days ago so the steam is still rising off it) and it's causing consternation because it's a lone single release, with no album release impending to keep it company. It's unusual for rock bands to send an orphan single out into the world but not unheard off; still there is hope from their many fans that this is the harbinger of a longer release to come.
Whether it finds its sibling songs or not, it's a fine track. Wearing a 60s inspired theme with pride, and redolent with airy slightly distant but powerful vocals that lend an ethereal quality to it, it is nonetheless a song where they have managed to grab the guitars out of the mouths of the hungry cymbals and use both instruments to create a engaging wall of sound that is both melancholic and uplifting all at once.
Get driving. This is one highway you'll want to keep driving down.
DAY JOY: "Go To Sleep, Mess"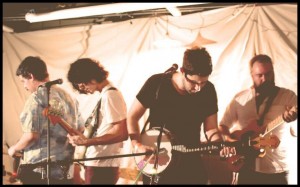 Day Joy, a new band that grew out of the band Saskatchewan when member Michael Serrin and friend Peter Michael Percival were looking for new ways to spread their musical wings, is a dreamy delight.
The band's songs, which are marked by 60s-inspired folk sensibilities that sound deceptively slight and fey but have a great melodic strength to them, wrap themselves around you like an ethereal half-remembered dream, wafting in and out of your consciousness, daring you to forget them.
And forget them you won't. Stalking the ground between waking and sleeping, the music is warm and reassuring at the same time as it is dark and unsettling. But it is always, always, a rewarding listen.
Time for a trip to dreamland I think …
So much music and so little time … what tracks will sneak onto your playlist?