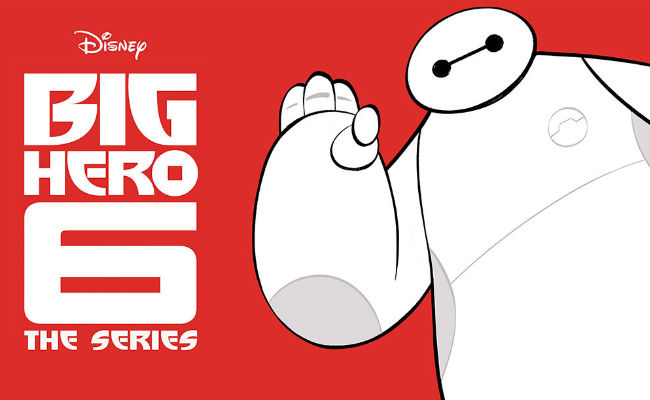 SNAPSHOT
"The series picks up immediately following the events in the movie, and continues the adventures of 14-year-old tech genius Hiro and his robot Baymax. Joining the pair on their journey is control freak Wasabi, scientist Honey Lemon, fanboy Fred and no-nonsense Go Go, who together form the Big Hero 6 superhero team.

"As the new prodigy at San Fransokyo Institute of Technology, Hiro faces daunting academic challenges, not to mention the social trials of being the little man on campus. The stakes are also raised for the high-tech heroes when they must protect their city from an array of scientifically enhanced villains." (synopsis via Den of Geek!)
One of the most delightful perks of being an uncle is going to see childrens movies with my nieces and nephews. (In all honesty, I'd go anyway since they're so much fun but having the kids along for the ride amps up the enjoyment factor by a considerable degree.)
Among the many films I've seen with them, usually at Christmas when I'm home for a while, is Big Hero 6, a beautiful film about love, loss and belonging and a gorgeous robot call Baymax.
Emotionally resonant, vibrantly and imaginatively-drawn and populated by well-rounded characters you give a passionate damn about, it's one of the highlights of Disney's recent long list of animated triumphs.
While rewatching the film is always an option, fans such as myself can now watch a while series of new adventures by Baymax, his human friend Hiro (younger brother of Baymax's creator Tadashi) and their quirky but passionate superhero gang.
Big Hero 6 The Series, which picks up the movie's fantastically and colourfully over the top but emotionally-rich finale – the film has all the feels and then some, a cut above the plasticky emotionalising of many other films in the genre – the show will give us many more chances I'm sure to fall in love with the bravest and most endearingly idiosyncratic of San Fransokyo.
Big Hero 6 The Series launches on Disney XD in 2018.