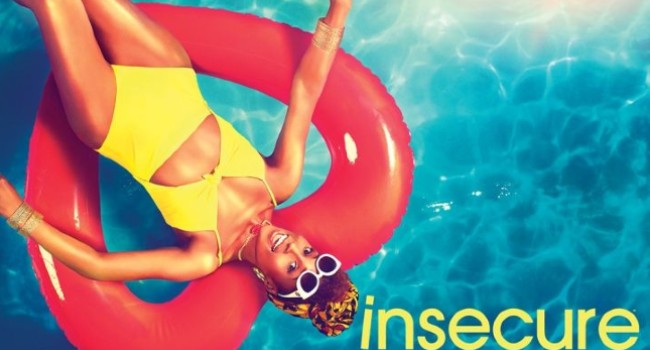 SNAPSHOT
Aside from the seemingly inevitable conflict between Issa and Condola, Issa and Molly's relationship could be put to the test in Season 4. Never have the two really dated men from the same circle, and they've both kept those parts of their lives relatively separate from their friendship with each other — meaning, they're entering uncharted waters dating a pair of roommates. Molly is moving into a new relationship with Andrew (Alexander Hodge), AKA Asian Bae, and Issa seems to be picking things back up with Nathan (Kendrick Sampson). As Refinery29 pointed out, in the Season 3 finale post-show special Wine Down, executive producer Prentice Penny said fans can expect these new relationship dynamics to be a large focus of the upcoming season. He said, "Typically, we've always had their relationships as 'Issa's dating this guy' and 'Molly's dating this guy.' And never the 'twain shall sort of meet… what's interesting now is what will this friendship be like [in a new situation]?" Sounds like a lot of drama over boundaries to come!

That's all while Issa continues to work on herself, according to Rae who spoke on a Television Critics Association panel in January 2020. She said now that the character quit her job, she's ready to "level up" and enter the next phase of her life professionally, as well as personally. But just as much as she's trying to thrive, Rae said that all comes with examining "the fallout that happens when turning 30."

It's also a possibility that mental health becomes more of a central focus, as it was revealed that Nathan ended up ghosting Issa not because he didn't want to see her anymore, but because he needed to go home to Houston to sort out his personal issues. (synopsis (c) Thrillist)
Insecure is a gem of a show.
Shining a light on the lives of young black professionals in Los Angeles, in all their flawed glory, it is adept at showing us how great the gulf is between what we want from life and what we get.
The characters in Issa Rae's brilliantly-realised show, which deftly brings together drama and comedy to often moving effect, are real people who may move in their own unique cultural milieu – that's another point in the show's favour; that it takes into a world many of us have not seen represented on TV – but who are universally human.
They want to love well. They do … and they don't. They want to make something impressive of their lives. They sometimes do … and often don't. And they want connections that last the distance … they mostly do but sometimes don't.
That they do all this with pithy, meaningful dialogue, great humour and affecting honesty, makes it all the richer and makes the anticipation for the sort-of delayed fourth season of the show – largely due to creator and star Issa Rae making it big in movies – all the keener.
Not long to go now thankfully with Insecure season 4 due to premiere on HBO on Sunday, 12 April at 10/9c (in Australia on Foxtel).