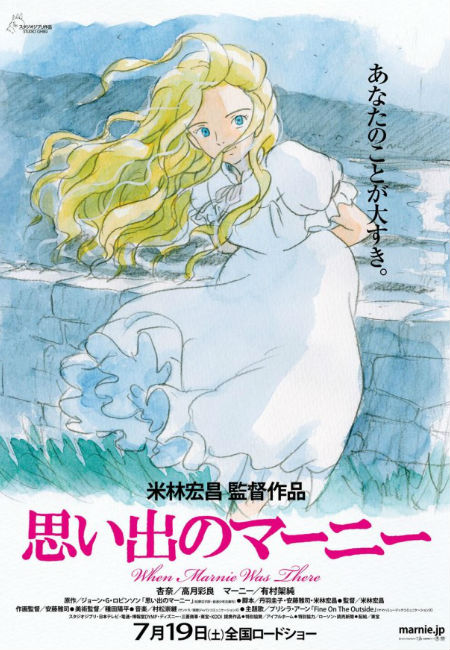 SNAPSHOT
An atmospheric ghost story with truths to tell about friendship, families and loneliness. Anna lives with foster parents, a misfit with no friends, always on the outside of things. Then she is sent to Norfolk to stay with old Mr and Mrs Pegg, where she runs wild on the sand dunes and around the water. There is a house, the Marsh House, which she feels she recognizes – and she soon meets a strange little girl called Marnie, who becomes Anna's first ever friend. Then one day, Marnie vanishes.

A new family, the Lindsays, move into the Marsh House. Having learnt so much from Marnie about friendship, Anna makes firm friends with the Lindsays – and learns some strange truths about Marnie, who was not all she seemed… (synopsis via Wikipedia)
As much as I love the emotionally-resonsant movies of Pixar, the sweetness and heart of Disney masterpieces like Frozen, and the irresistibly-cheeky filmmaking of Dreamworks, it's the visually sumptuous work of Japan's animation powerhouse Studio Ghibli that most profoundly affects me again and again.
Known most particularly for the work of one of its founders, master animator, Hayao Miyazaki, who released his final film before retirement, The Wind Rises, a few months back, but also home to fellow animator and co-founder Isao Takahata, who released his last film The Tale of Princess Kaguya just a year earlier, Studio Ghibli brings a beauty and poetic sensibility to its animated tales that has captivated audiences the world over since its establishment in 1985.
It is without a doubt in the gold standard of movie animation, and while the release of the trailer for its latest movie and 20th feeature, the haunting When Marnie Was There (Omoide no Marnie (思い出のマーニー Omoide no Mānī, literally "Marnie of Memories"), based on the book by Joan G. Robinson, should thus be treated with the customary joy and glad tidings, it also finds people in a reflective state wondering if this signals the final chapter in Studio Ghibli's remarkable story.
One of those prognosticators of the animation studio's fate is Ryan Lambie of Den of Geek, whose beautifully written piece about Studio Ghibli touches on where it heads with the retirement of both Miyazaki and Tanakata, and into whose hands their stewardship of hand-drawn animation will fall.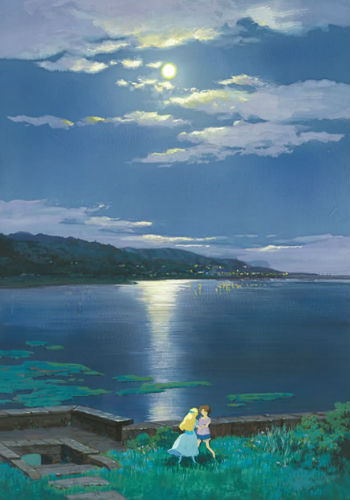 His article points to the fact that though fellow co-founder Toshio Suzuki told the film critic from the UK's Telegraph Robbie Collin early this year that "We have no future plans, we just want to take some time off," and that Miyazaki spoke four years ago plans to wind up the animation wing of the company in favour of a rump to oversee copyright administration of their properties, that there are in fact young animators in the studio's wings ready to take on the mantle of both Miyazaki and Tanakata.
One of those people is in fact Miyazaki's son Goro who has shown promise most recently with From Up On Poppy Hill (2011) earned this praise from Lambie:
"Both rich in visual detail and intelligently written, it felt like the work of a director in firm control of his craft. Should he get the chance, Goro may have the creativity to make even better features for the studio in the future."
Also highly regarded to is Hiromasa Yonabashi, a 40-something veteran of Studo Ghibli, who after cutting his teeth on film's such as Howl's Moving Castle and Spirited Away, made his feature debut with The Secret World of Arrietty (based on The Borrowers books by Mary Norton):
"The Secret World Of Arrietty … bore the hallmarks of a film directed by Miyazaki himself: a resourceful heroine, a gentle, nostalgic atmosphere, and a keen eye for the wonder of the natural world – the depiction of falling rain drops, as viewed by a tiny person mere inches high, were pure Miyazaki."
Both these men, and a number of other younger animator's in Ghibli's ranks all stand a very good chance of continuing the legacy of Miyazaki and Tanakata, and one can only hope that they are given the chance to do so.
It would be a crying shame indeed if Studio Ghibli were to fold since the trailer for When Marnie Was There, with its gorgeously-rendered hand drawn animation and very much in evidence love of evocative storytelling, would seem to indicate it is an animation powerhouse still very much at the top of its game, one you can only hope it will be able to participate in for many enchanting years to come.
When Marnie Was There opens in Japan on 19 July 2014.