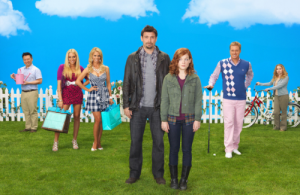 Suburgatory, which returns for a second season on 17 October (in the USA), is using the tried and true technique of a time jump to leap right back into the lives of Tessa (Jane Levy), dad George (Jeremy Sisto), and the other slightly loopy residents of good old Chatswin some months after season 1 ended with some rather delicious cliffhangers.
No, the "time jump" in question is not some weird crossover with Dr Who (although that would be kind of fun now I think about it) but rather a quick way to move events forward past a very eventful summer for all concerned.
So what has happened since …
* Tessa (Jane Levy) had a long overdue meeting with her maternal grandmother, triggering a much needed get-to-know-you session with her mother's family, and of course an excuse to skip town for the summer, which Tessa being Tessa accepts with open arms?
* And Lisa (Allie Grant) found out, much to her chagrin, that she is the biological child of Sheila (Ana Gasteyer) and Fred (Chris Parnell) – I am assuming she spent much of the summer curled up in the foetal position; I would have if I was her – but that, and who saw this coming, that her brother Ryan (Parker Young) is the adopted one?
* And of course George and Dallas (Cheryl Hines) inched every closer to a much expected, and hoped for romance?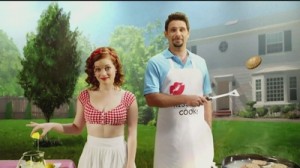 Quite a lot as it turns out although of course series showrunner, Emily Kapnek was careful not to give too many details away to Diane Gordon from thehollywoodreporter.com.
With Eden (Alicia Silverstone), surrogate mum to George's best friend Noah (Alan Tudyk) out of the picture, George and Dallas are free to definitely, unequivocally be an item – I can hear the protesting screams of Dallas's high maintenance daughter Dalia (Carly Chaikin) and no doubt Tessa's vociferous objections already – and that means a lot of fun and laughs for the couple. Says Kapnek:
"We're going to be moving pretty fast and furious into the George and Dallas relationship. The time is right and everybody wants it and we want to see it. We have some really great stuff planned. I was just making Cheryl Hines blush today, telling her about an episode we have planned which is essentially the seduction of George Altman, where she's spent a lot of time, energy and resources in exactly how she's going to seduce George and it's really going to be funny." (source: thehollywoodreporter.com)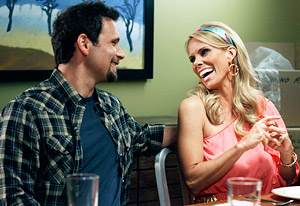 Tessa meanwhile will have romantic entanglements of her won as she finds herself attracted against all reason to Ryan who is everything she thinks she doesn't want in a guy. Ryan, of course, is at heart a sweet guy and may be the best thing to happen to cynical New York-craving Tessa. Says Kapnek:
"We are growing the chemistry between Tessa and Ryan. There are a bunch of situations where he comes to her rescue and he makes it very clear that he wants her back. I think that over time, he'll wear her down. The one thing about Ryan is he's so endearing and his heart's in the right place. I think old Tessa obviously loathed herself for being interested in someone like him but after being around cynical New Yorkers, we can understand why she'd be smitten with someone who's so enamored of her and so loving toward her, the genuine article of, "What you see is what you get kind of guy."  (source: thehollywoodreporter.com)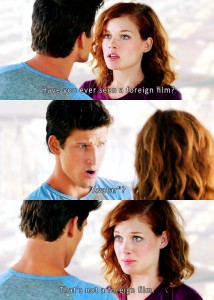 And yes there will be fun aplenty as Noah copies with being a single dad to his new son with wife Jill (Gillian Vigman), who frankly radiates all the maternal warmth of Medusa in a foul mood (and decorated the nursery accordingly), and Lisa trying to figure what she does now she is incontrovertibly a Shay.
One thing is for certain.
Suburgatory will continue to mercilessly skewer the pretensions of middle class America with delight and we can be guaranteed more laughs per minute than we have any right to.
It's going to be a great year in Chatswin!