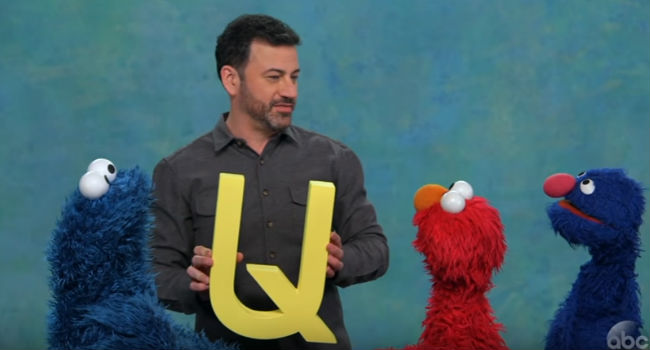 Let's face it – you get to a certain point in life and you feel like you've seen it all.
The good old "there's nothing new under the sun", a phrase drawn from the Book of Ecclesiastes in the Bible, that laments the unsurprising monotonous feel of life begins to feel more and more like it's the defining paradigm of life.
And yes that kind of ennui can affect anyone and anything – even good old Sesame Street.
So Jimmy Kimmel, host of nightly talk show Jimmy Kimmel Live!, decided to shake things up a bit when he visited the venerable show, unveiling a brand new letter to an understandable sceptical Cookie Monster, Elmo and Grover in the hopes that the 26 rather over-used letters in the existing alphabet could have a break.
Alas, while the new letter, pronounced "yuke" is a daring move, opening all kinds of status quo-unsettling possibilities, it soon becomes obvious, in this highly-amusing piece, that its uses may be a tad limited.
Back to the alphabetical drawing board and the 649th featuring of the letter "T" it is then (which in the hands of the awesome people and muppets at Sesame Street will be just as good as the first) …