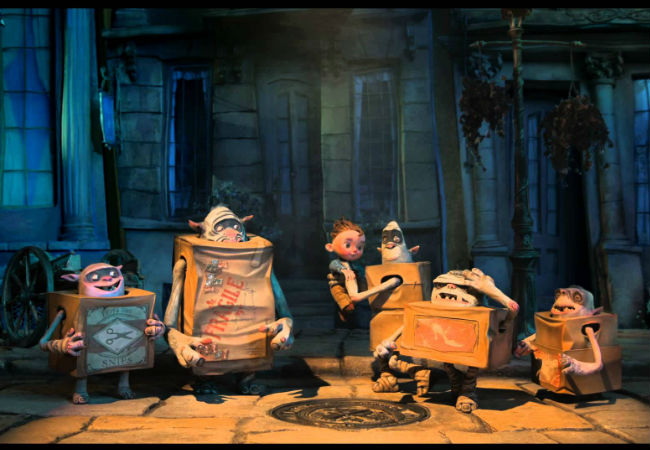 SNAPSHOT
The Boxtrolls are monsters who live below the streets of Cheesebridge, who crawl out of the sewers at night to steal what the townspeople hold most dear: their children and their cheeses. Or so the townspeople have always believed. In truth, the Boxtrolls are a community of lovable oddballs who are raising an abandoned and orphaned human boy named Eggs as one of their own. When the Boxtrolls are targeted by a villainous exterminator who is bent on eradicating them, Eggs must venture aboveground and team with an adventurous young girl to save them. Graham Annable (story artist on ParaNorman) and Anthony Stacchi (co-director of Open Season) directs the film which Focus Features releases on September 26th this fall. (synopsis via First Showing)
I am utterly and completely head over in heels in love with The Boxtrolls and I haven't even seen the movie yet.
(For proof, see here and here).
But there's just something so joyfully childlike, sweet and whimsical about the world created for the movie, one we have only glimpsed through trailers so far, that I can't wait to immerse myself in the wonderful world of The Boxtrolls, which is based on the Here Be Monsters! series of books by Alan Snow at the earliest available opportunity.
It's a world of endless diversity where you are loved and accepted regardless of your size and shape, a templar of the sort of world many of us wished we lived in where prejudice and bigotry have been banished and you are valued for you who you are, and not who someone with suffocatingly narrow ideals thinks you should be.
There is charm, love and acceptance aplenty in both of the new trailers just released, the first for the US, and the second for the UK, that makes the anticipation for the film's release all that much keener.
The Boxtrolls hit cinemas in UK on 12 September 2014, US on 26 September and Australia on 18 September, by which time I should have chosen the box I intend to wear to the premiere.