Ah, the magnetic lure of new seasons of our favourite TV shows!
Is there anything better than being given a view, however fleeting, of what lies in store for characters we have to come to know and love? Sure we want all the episodes at once, yesterday even, but that's not always possible since even Netflix has its release dates and nothing, not even the fervency of fans, can sway them.
So for now, we must make do with teaser trailers for three stellar shows – Netflix's Unbreakable Kimmy Schmidt and Grace and Frankie, and HBO's Silicon Valley, all of which will titillate and amuse but only briefly, leaving us longing for the full trailers to come …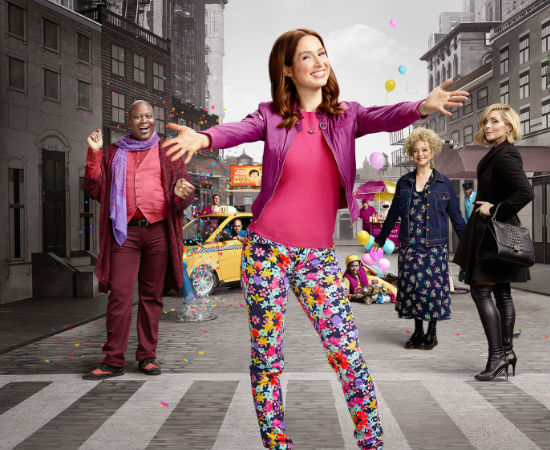 Is there anyone more beguiling, more joyously unstoppable and more deserving of everything coming her way than Kimmy Schmidt (played with comedic perfection by Ellie Kemper)?
Of course not, and given her ability to continue to triumph over life when everything says she shouldn't (but we all know she should, 15 years in a cult bunker be damned!), it makes perfect sense that the irrepressibly wonderful Kimmy should get a third season.
It will however be a season not without complications given season 2 ended with Kimmy receiving a call from the Reverend (Jon Hamm) to say they're still married (gasp!), all while Titus (Tituss Burgess) heads off to hopefully find fame and fortune on a cruise, Lillian (Carol Kane) protests the growing hipster invasion of her much-loved bedraggled neighbourgood, and Jacqueline (Jane Krakowski) re-embraces her Native American heritage and sets out to take down the Washington Redskins.
That's a whole lot of potential crazy, silly fun going on and you can guarantee that Tina Fey and the team will go to town when Unbreakable Kimmy Schmidt returns for season 3 on May 19th.
(source: We Got This Covered)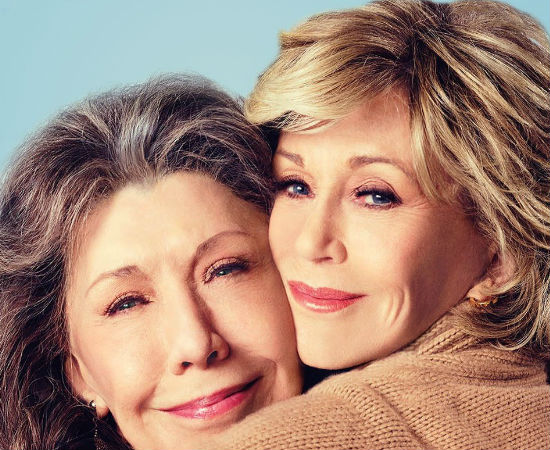 What do you do when life hands you lemons, very gay lemons at that?
Why if you're Grace (Jane Fonda) and Frankie (Lily Tomlin) you get angry, try to get even and after a whole lots of emotional ups and downs and twists and turns, you resign yourself, reluctantly at first but then ever more enthusiasm and vigour to forging a new post-married life for yourselves.
Which includes becoming friends with each other, a friendship neither of you saw coming but which ends becoming the defining and best part of your new life, and one that lends a great deal of humour, life, fun and heartfelt humanity to utterly original series.
Throw in stellar performances from Martin Sheen and Sam Waterston as their onetime husbands and now out gay partners, and you have a show that tackles with a very current issue with all the hilarity and heart you could ask for.
And a business venture involving vibrators which is where we left them at the end of season 2, a narrative step forward the should provide a huge amount of storyline fodder come season 3 of Grace and Frankie on March 24.
(source: Indiewire)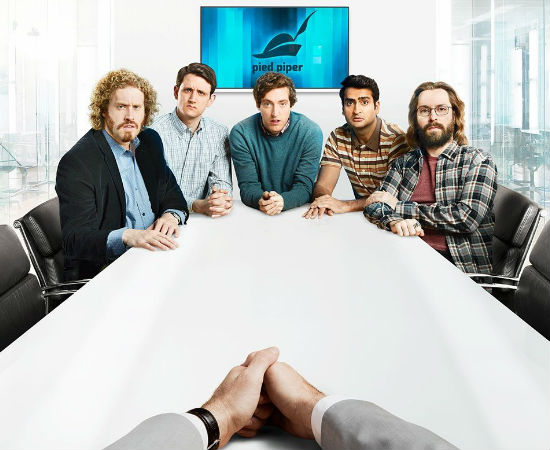 As far as expressing how difficult it can be to really make your presence felt in our dog-eat-dog world, it was probably Cheers who said it best:
"Making your way in the world today
Takes everything you've got."
But in terms of actually demonstrating how badly things can go right, then wrong, then right, then exasperatingly wrong again in the pursuit of your dream, then you probably can't go past Richard (Thomas Middleditch) who frustrated from his lack of stellar success so far, has now decided he's going to quit Pied Piper and build a whole new internet.
Ah-huh, yeah, that'll go well.
C',mon we all know it will be an epic disaster, bred of good intentions meaning fantastically flawed execution, and we will, of course, be laughing all the way to the venture capitalist's office when Silicon Valley returns April 23 on HBO.
(source: Vulture)