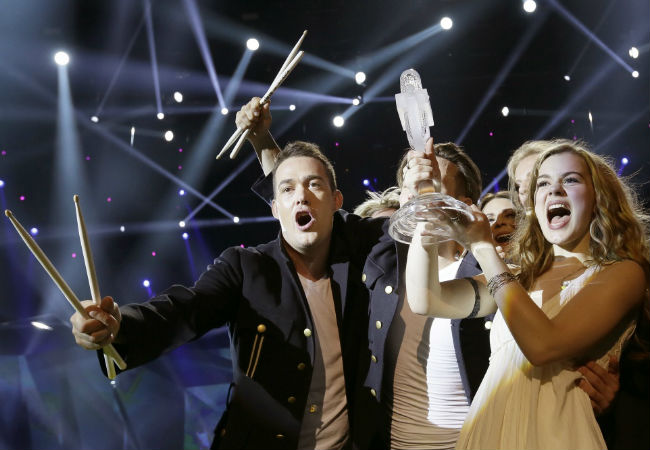 I seem to have lost something.
I had it for years, it served me well, and unerringly came to my aid when I need it the most, usually in May every year.
What is this mysterious something? (And no, it is not Andrius Pojavis from Lithuania thanks for asking.)
Why, my ability to reasonably accurately predict the final Eurovision top 10 which in past years has seen me correctly pick 80-90% of the final top 10.
I am not sure whether it was the sameness of many of the songs, the tight leather pants of Ireland's dancers which distracted me greatly, or some stray glitter in my eyes, but apart from placing some of the eventual top 10 randomly in my rankings, I appeared to be greatly out of step with the European zeitgeist.
(I suspect it has something to do with ignoring my gut instinct, which would have placed two songs I love, "Kedvesem" by ByeAlex from Hungary and "Birds" by Anouk from The Netherlands firmly in the top 10; instead I tried to second guess Europe and failed.)
Not that it will distress me greatly fortunately since I sensibly don't base my self-esteem on how I psychically predict Eurovision voting patterns, but it underlined once again just how unpredictable this year's results were.
While Emmelie de Forest was long favoured to take out the event, along with Norway and Greece if you believed this prediction, or with Azerbaijan and Romania (!) if this poll was to be believed, and Norway and Ukraine were always expected to place well (very well in my opinion – see below – which sadly proved to be unfounded), other songs confounded pundits like me.
For a start I clearly completely underestimated the appeal of Greece's entry, Koza Mostra.
Yes "Alcohol is Free" had an infectiously catchy ska sound going for it, the presence of a revered national musical treasure in Agathon Lakovidis, and an irrepressible cheeky energy that saw it overcome the deficiencies in what was, by any estimation, a less than stellar song.
But it was also firmly in the novelty song camp, not quite "Who Let The Dogs Out" terrible to be fair, but veering dangerously close it, with a limited lifespan surely.
Unlike say the Ukraine's entry "Gravity", which has charted on iTunes across Europe, reaching #8 in Sweden for instance or Norway's Margaret Berger whose catchy electropop number, "I Feed You My Love" which reached #2 in Greece and Sweden, and #3 in Finland (source: wiwibloggs.com), Koza Mostra have only managed to chart significantly in Greece itself.
Admittedly that is probably largely due to it being sung mostly in Greek but even so, it underlines that it's appeal and shelf life are limited, which frankly begs the question – why did so many people vote for it right across Europe?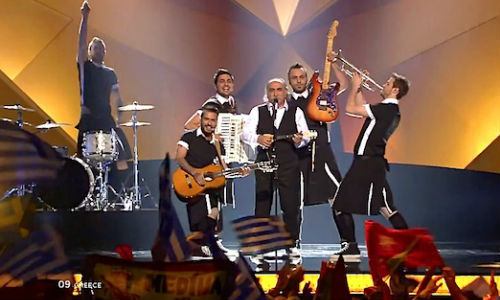 Another song that left me perplexed, confounded, befuddled and everything in between was ""It's My Life" by Cezar from Romania.
He is, by all accounts a singer of great talent, a contratenor who won Romania's version of The Voice, and a graduate of the Giuseppe Verdi Music Academy in Milan, and came to the contest with a song written by popular Romanian composer and writer Cristian Faur.
And yet with all that talent in hand, he chose to dress in a glittery Dracula-esque outfit, sing a falsetto so grating that dogs and cats were paddling across from Malmö to Copenhagen to escape the wailing.
Clearly he struck a chord with voters across Europe – perhaps the ones who, like my partner, celebrate the more kitsch acts of Eurovision with gusto and thankfulness that the contest still throws up these almost comical oddities – placing at #13 out of 26 but I am at a loss to explain why beyond his obvious novelty value?
Surely it wasn't the quality, or lack thereof, of the performance?
Are they are all True Blood fans?
By and large though the Grand Final played out much as expected.
Strong contenders like Norway – such a dynamic performance by Margaret Berger on the Grand Final night after a slightly shaky start during Semi-Final 2 – and Ukraine placed high on the rankings, although I still expected Norway to be slightly higher than it was, while Italy and Azerbaijan charmed the crowds with their gorgeously sung, if conventional, ballads.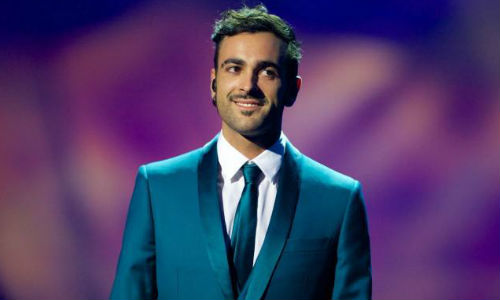 As I mentioned earlier in the post, I regret not going with my instinct and giving Hungary and The Netherlands a place in my top 10.
I am not sure why I erred except to say that I think I was trying a little too hard to second guess the voters of Europe who I thought would like the songs but not as much as they did.
I loved both songs the moment I heard them – Anouk gave "Birds" an engaging otherworldly flavour while "Kedvesem" bounced along with a quiet, percolating joy and ByeAlex's suitably soft and raspy voice – and should have made the decision on that basis alone.
After all, for the all the jokes about Eurovision not being about the music, and songs like "It's My Life" popping into the top 15 (when really it should have swapped places with Ireland's Ryan Dolan and his song "Love Survives" which didn't deserve to finish in last place), good quality songs usually don't make into the top rankings since neither the general voting public, nor the juries of music professionals – each score is made up of a 50/50 split of each group's votes – are willing to give the tick of approval to sub-standard music.
No matter what the Eurovision conspiracy pundits may say.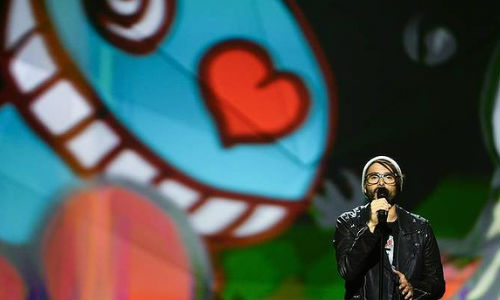 France's low finish was a surprise since Amandine Bourgeois – BEST. NAME. EVER. – gave a smokin' performance of her Amy Winehouse-esque song "L'Enfer et Moi", giving her heart and soul, and a fair swag of her melting mascara, to delivering one of the emotionally-intense performances of the night.
Another song that I expected to do far better "Marry Me" by Krista Siegfrieds of Norway.
I doubt it was the controversial (only if you're a right wing tabloid I would wager) kiss at the end of the song where she locked lips with one of her female back up singers, since much of Eurovision's core demographic these days is the gay community and their friends and family.
Perhaps the song simply couldn't compete with the heart rending ballads, or no one wanted to marry Krista, which is hard to believe since she came across as absolutely delightful in the interview she did with Australia's SBS television network, but whatever the reason, she deserved a far higher placing for a brilliantly catchy song performed with all the energy you could ask of any performer.
In the end of course, predicting who will and won't win Eurovision, and who will place where is as problematic as any other contest with a host of variables – in this case mostly highly attractive, reasonably talented variables with a penchant for tight dresses, leather-clad back up dancers and pyrotechnic curtains of fire and light – and Eurovision 2013 didn't disappoint in that regard, confounding and surprising pretty much as it always does.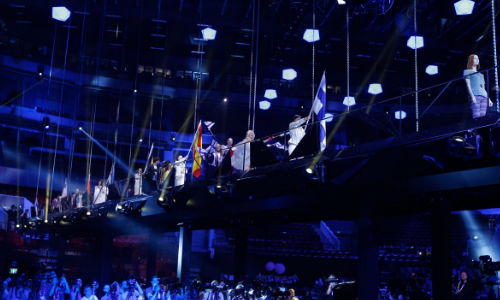 Final results for Eurovision 2013
Denmark: Emmelie de Forest, Only Teardrops – 281 points
Azerbaijan: Farid Mammadov, Hold Me – 234 points
Ukraine: Zlata Ognevich, Gravity – 214 points
Norway: Margaret Berger, I Feed You My Love – 191 points
Russia: Dina Garipova, What If – 174 points
Greece: Koza Mostra feat. Agathon Iakovidis, Alcohol Is Free – 152 points
Italy: Marco Mengoni, L'Essenziale – 126 points
Malta: Gianluca, Tomorrow – 120 points
Netherlands: Anouk, Birds – 114 points
Hungary: ByeAlex, Kedvesem – 84 points
Moldova: Aliona Moon, O mie – 71 points
Belgium: Roberto Bellarosa, Love Kills – 71 points
Romania: Cezar, It's My Life – 65 points
Sweden: Robin Stjernberg, You – 62 points
Georgia: Nodi Tatishvili and Sophie Gelovani, Waterfall – 50 points
Belarus: Alyona Lanskaya, Solayoh – 48 points
Iceland: Eythor Ingi, Eg a lif – 47 points
Armenia: Dorians, Lonely Planet – 41 points
UK: Bonnie Tyler, Believe In Me – 23 points
Estonia: Birgit, Et uus saaks alguse – 19 points
Germany: Cascada, Glorious – 18 points
Lithuania: Andrius Pojavis, Something – 17 points
France: Amandine Bourgeois, L'enfer et moi – 14 points
Finland: Krista Siegfrids, Marry Me – 13 points
Spain: ESDM, Contigo hasta el final – 8 points
Ireland: Ryan Dolan, Only Love Survives – 5 points
(source: mirror.co.uk)
And the top 10 I picked (with Norway as the winner, and the other 9 in no particular order):
Norway        Just fourth place? Really? She was willing to feed you her love! HER LOVE DAMMIT.
Denmark    Granted I didn't love this song but Emmelie de Forest sang it with passion and deserved a win
Georgia        Not the best ballad true but better than Azerbaijan's effort I thought
Italy               He sang like an angel and looked gorgeous in the suit but he was so still. SO VERY STILL.
Greece          Sixth place Europe? Did you let all the free Ouzo go to your head just a little?
Iceland         Such a touching uplifting song and what a hunk of a man. Vikings? Yes please!
Estonia        She elevated an ordinary song with a extraordinary performance.
Belgium      I didn't expect to like this song or Roberto as much as I did. A big surprise.
Ukraine      Such a powerful in-your-face song awesomely performed by a born entertainer
Ireland        Another song that grew on me. It deserved better than last place.
* So which songs would have made your top ten?
THE AFTERMATH
Every year, in the days following The Eurovision Song Contest, all the brotherhood and bonhomie breaks just a little, or a lot in some cases, and the accusations fly. Here's a few articles you may find make interesting reading:
* Think it's JUST a song contest? Think again says Russia.
* Was it our bad song perhaps? No, we lost because of the gays allege F.Y.R. Macedonia's entrants (one of whom clearly think he's god's gift to, well, just about everyone.
* And as with every year, some entrants say they were robbed of valuable points by fraudulent voting practices, something the European Broadcasting Union has strenuously denied.
But not everyone is cranky. Robyn Stjernberg from Sweden, though placing 14th behind Romania, was ecstatic about his performance!
And Crikey.com.au had this fascinating look at the language of Eurovision.
** so onward and upward to 2014 and Denmark. See you in red and white then!