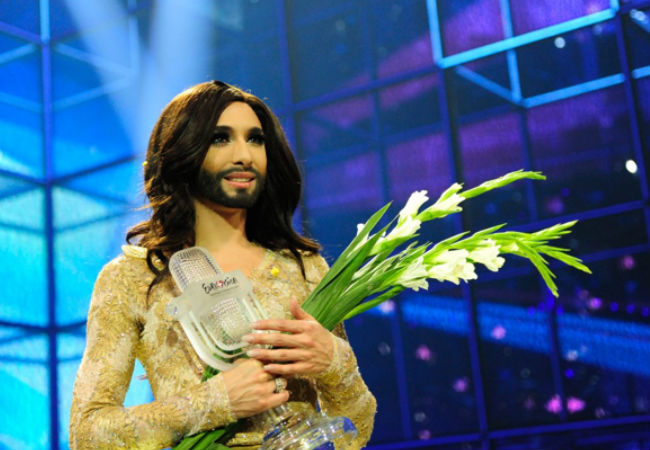 Oh what a night!
Not only did the final of Eurovision 2014 kick off with dancing ninjas – well not strictly speaking but they looked the part – it had fireworks that ringed the enormous ship-shaped stage, and what looked suspiciously like a fashion parade of the representatives of all 26 of the countries competing.
And that was before anyone sang a note!
Best of all, as far as I was concerned, I managed to get back into sync with the good people of Europe and correctly pick that Conchita Wurst from Austria would emerge triumphant at the end of what feels like the usual eternal round of voting.
It wasn't simply her stylish poise, her gorgeously resonant voice or her anthemic song (that managed to sound a million times more authentic than the UK's Molly Smitten-Downes cynically formulaic "Children of the Universe" which lacked the passion that Wurst's "Rise Like a Phoenix" had in spades); it was this feeling deep down that here was a show stopper moment.
And so it was during the final, just as it has been during the second semi final.
With a giant golden pinnacle of light encasing her (part of one of the themes of the night with Sweden also going with this dramatic look), Wurst let loose with what sounded like a life time of pain channeled into one goosebump-inducing song and honestly, you could hear a pin drop.
She made that much of an impact.
* Her win has generated huge interest for the bearded star, who managed to top the unofficial voting in Australia, with many predicting she will not only do well commercially (second only to ABBA possibly) but also be a standard bearer for advancing LGBTQI rights throughout Europe.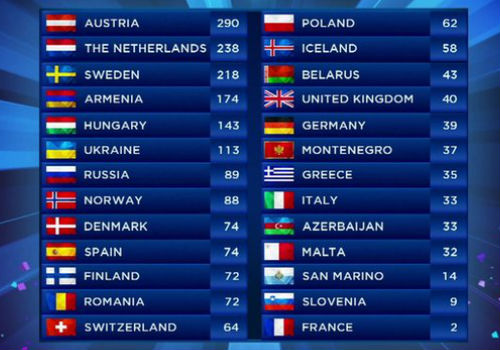 Alas some of my other favourites, two of which, France and Italy, I included in my top 10 so enamoured was I with them didn't fare so well with the good people of Europe.
Italy only managed 21 out of 26 while France, sporting one of the jauntiest, best examples of psych pop I have heard lately, were left in last place, prompting them to appear naked on French TV, the logic being that since they been "stripped" by the voting public, that they should be nude to reflect that.
It's hard to fault that logic really, especially when you saw how good the French lads looked in the buff.
Greece, another of my top 10 picks, also fared poorly placing just above Italy, a sign that the trio's call to "Rise Up" had gone largely unheeded, and another of my favourites (not a personal; more one I thought was popular with Europe as a whole),Montenegro, placing just above them.
But not everyone I picked slipped into Eurovision oblivion however.
Sweden ended up in third place (symbolically apropos in ABBA's 40th anniversary year), Armenia in 4th, Hungary in 5th and Ukraine coming in 6th, giving me an overall success rate of 50%, not a bad piece of Nostradamus-ing, especially since I am not in Europe, and therefore not privy to what really appeals to Jorge or Hersi Average.
It was thankfully one of those years when a talented artist with something worthwhile to say and a stunningly good song with which to say it, won the Eurovision Song Contest and we could all rejoice and be glad that really good music had triumphed.
This was despite the fact that there were glaring discrepancies between the way in which the people of Europe voted, and how the juries of industry professionals, who tend to vote far more conservatively, decide who should be the holder of the crystal microphone (in most countries the final vote is comprised of 50% of the vote of each group).
As the BBC reported, voters in the UK for instance awarded Poland's entry, a satirical take on Slavic gender politics with masqueraded as "laundry porn", top marks while the British jury decided it was nothing special (I tend to side with them in this instance) and awarded it nil points.
Germany was another country where there was a stark divide between what the public thought was wunderbar – in this case Greece who managed fourth place – and the jury who gave it 22nd position overall, again granting it nil points when it came to handing out points during the extended voting telecast portion of the evening.
In other countries the alignment between the public and the juries was closer with Belarus awarding Russia douze points (12 points) based on both sets of votes (some cynics have suggested this had less to do with the merits of the Tolmachevy Sisters song and more with a "Please don't invade us" vibe in the light of the situation in Ukraine).
In the light of these glaring discrepancies, some have called for any overall of the voting system but to be fair, these sort of calls have been heard almost every year since Eurovision began in 1956, and it's doubtful you will ever get a completely fair system in place that pleases everybody.
Overall, the final was every bit the spectacle you could hope for.
There was an unexpected use of gymnastic equipment – Ukraine with its man-centred hamster wheel, Azerbaijan's woman in red atop a swing, Russia atop a seesaw and Greece bouncing on a giant trampoline – stunning light shows with Finland coming close to inducing mass migraines with their blindingly bright visuals, and circular pianos (thank you Romania!).
We had simulated rain (Spain), a "Brat Pack"-inspired suited look (Belarus and Denmark) and even an under the sea theme courtesy of San Marino (who made it to their first final since their entry to Eurovision's ranks in 2008).
And we had some of the best "postcards", which introduce each country during the telecast, I have ever seen (see my five favourites below).
The Eurovision Song Contest 2014 was a marked improvement, musically at least, on a rather lacklustre 2013, with better songs across the board, a mesmerising stage and a sense that it has rediscovered its sense of fun (Iceland and France's appearance in the final underscoring that point).
Long may that continue as we journey to Austria in 2015!
You can watch all 26 of the postcards here.
And here's the full list of Eurovision 2014 results:
Austria                                       290
Netherlands                             238
Sweden                                      218
Armenia                                    174
Hungary                                   143
Ukraine                                     113
Russia                                       89
Norway                                     88
Denmark                                  74
Spain                                         74
Finland                                     72
Romania                                  72
Switzerland                             64
Poland                                      62
Iceland                                     58
Belarus                                     43
UK                                             40
Germany                                  39
Montenegro                            37
Greece                                      35
Italy                                          33
Azerbaijan                               33
Malta                                        32
San Marino                              14
Slovenia                                    9
France                                       2