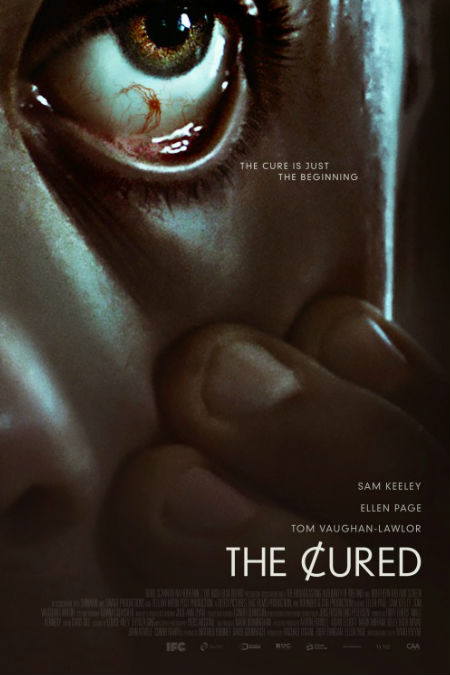 SNAPSHOT
What happens when the undead return to life? In a world ravaged for years by a virus that turns the infected into zombie-like cannibals, a cure is at last found and the wrenching process of reintegrating the survivors back into society begins. Among the formerly afflicted is Senan (Sam Keeley), a young man haunted by the horrific acts he committed while infected. Welcomed back into the family of his widowed sister-in-law (Ellen Page), Senan attempts to restart his life—but is society ready to forgive him and those like him? Or will fear and prejudice once again tear the world apart? Pulsing with provocative parallels to our troubled times, The Cured is a smart, scary, and hauntingly human tale of guilt and redemption. (official synopsis via io9)
Coming up with a fresh take on a well-worn genre, perticularly as in vogue and popular as the zombie genre, can seem a lot like misison impossible (the concept, not the franchise which doesn't feature zombies, at least the last time I checked).
But books like The Girl with all the Gifts and The Boy on the Bridge by M. R. Carey, TV shows like In the Flesh and now The Cured, starring Ellen Page, demonstrate that with some clever thinking, inventive perspective and some stellar writing, that it is possible to transcend the tropes.
The Cured mixes horror, Machiavellian intrigue and good old-fashioned bigotry and paranoia (clearly "good old" is meant more than little facetiously) to devastatingly horrifying effect as the story, eshcewing simplistic notions of good and bad, cured and sick, good and evil, tackles a simple idea in a complex but accessible way.
As the trailer brilliantly demonstrates, there is far more going on with the Cured, ex-zombies now rehumanised that looks like it has volumes to say about how we deal with the monster within, zombie or otherwise. (As current events show all too clearly, many of society's monsters are all too unnervingly alive.)
The film looks provocative, chilling and tense af, a brilliant excursion into a world not unlike our own.
Now all you to do is RUN … to the cinema … why do you don't actually think zombies are real do you? Oh wait …
The Cured opened in USA 23 February with a release yet to be determined for Australia.