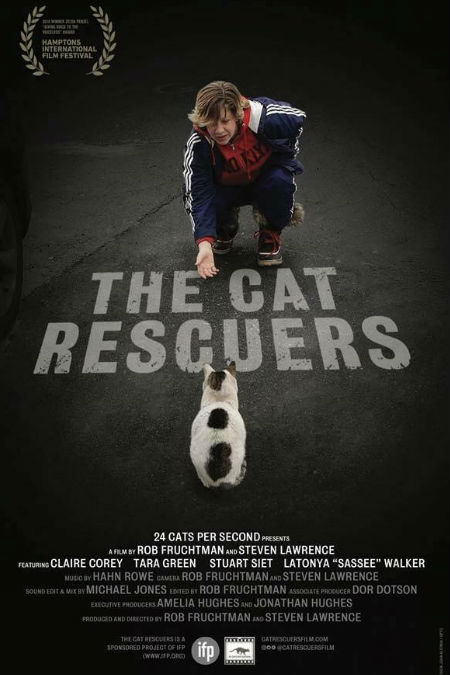 SNAPSHOT
With over 500,000 streets cats struggling to survive in NYC, and the city unwilling to address the problem, spirited volunteers like Sassee, Claire, Stu and Tara have come to their aid. Their beat is Brooklyn, where the problem has exploded. Combing the borough's alleys, backyards, and housing projects, they trap the cats, get them fixed and returned to their colonies, or adopted. THE CAT RESCUERS shows the skill, resilience and humor they bring to this challenging but rewarding work, and how their mission to reduce animal suffering, often at great sacrifice to themselves, has changed their lives. (synopsis via Laughing Squid)
If you're a cat lover like I am, you will be the kind of person who loves to curl up with their kittehs any chance you can get.
It's an intrinsic thing, this love of all things feline, that comes with, naturally enough, the urge to make sure they are loved, cared for and looked after in every way possible.
This drive explains why hundreds of volunteers in New York, and precisely in Brooklyn in this instance, give up so much time in all kinds of weather and at odd moments of the day and night to look after the many hundreds of thousands of feral cats which live in the city.
The city government isn't up to the task so these volunteers step into the breach, their work documented with love and insight in the award-winning documentary The Cat Rescuers by filmmakers Rob Fruchtman and Steve Lawrence.
It's an extraordinary calling but when you truly love cats, it all makes perfect sense; when there's so much need, how you just stand by and do nothing?
The Cat Rescuers is currently screening at the IFC Center in New York City.