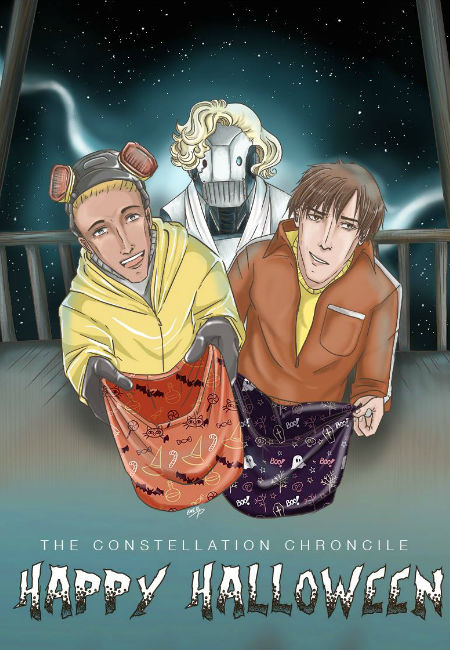 It probably hasn't escaped your notice that it's almost Halloween.
Now you could do what most people do to mark this most spooky of holidays – spray your house with fake cobwebs, stick up a Jack o' Lantern on your front steps and wait for trick-or-treaters to visit seeking a mega ton of sugar.
Or, and c'mon you know you want to do something entirely different, you could head off to the mysterious world of The Constellation Chronicle where everyone's favourite spacefaring, inter-dimensional guys and their robot are galactically celebrating Halloween with more than a few earthly touches thrown in …
"Our boys Marcel and Wainwright and their pet robot ZeeBee have gathered at your doorstep for some delicious, delicious candy. Marcel (left) has donned his best Jesse Pinkman from Breaking Bad costume complete with that signature gas mask.

"Wainwright chose the subtler option. He figured he could pass as a normal man out for the night with his over eager friend. If any one asked, he was David from Marvel's T.V show, Legion in his asylum outfit.

"Zeebee somehow found a blonde wig and tried it on. On the way out the door, the poor robot fell into a collection of sheets. Impressed by the surprising resemblance to Marilyn Monroe Marcel and Wainwright decided to run with it."
Once you're done getting your spookiness on with the gang from The Constellation Chronicle , you should head over to Top Web Comics Halloween Contest, check out all the amazing entries , and naturally, vote for The Constellation Chronicle's entry.
But hey don't stop there!
There's plenty going on the La Sillia universe and you can check out this impressively ambitious, artistically-rich and narratively-engrossing new webcomic series here, and if you like what you see, how about lending the creators Emevsa (the first names of its creators Emi, SJ and Evie) some financial loving via their Patreon page.
Having inter-galactic Halloween everyone!