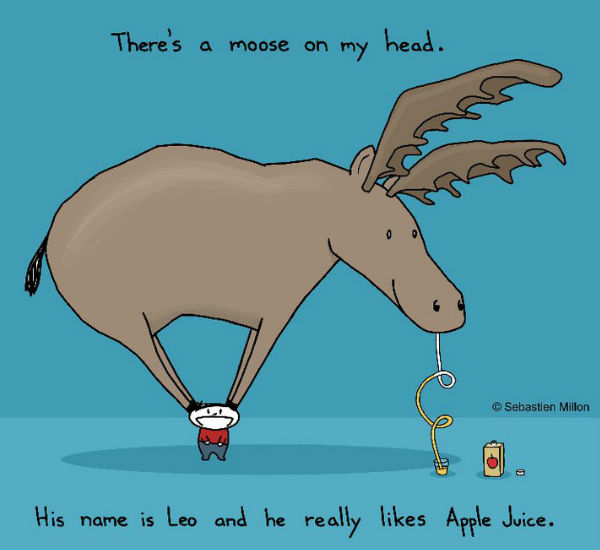 The world needs more people with a gleefully twisted view of the universe.
No, I am not talking the need for more TV crime shows about sociopaths happily dispatching all and sundry with artistic brio and philosophical justification, although to be fair what would Dexter, The Mentalist and the entire Law and Order franchise be without them?
What I am referring to are creative types who revel in the strange and the absurd, who refuse to see life through the usual black and white lens clung to doggedly by most well-meaning members of society.
The sort of people who cock their head to one head, take a scene in of, say commuters rushing to work or a busy playground of noisy children and think to themselves that it needs "more velociraptors on unicycles", for instance.
People like Sebastien Million, an artists based on Phoenix, Arizona who told the Phoenix New Times just that and a whole lot more whimsical, insightful delightfully unorthodox home truths in a brief 2012 profile looking at 100 of the most creative people in the western U.S. state's capital.
As well as  a yearning for more of the now sadly-departed Cretacean dinosaurs in modern life, he revealed that he arrived in his adopted home town with "a one eyed one legged baby tyrannosaurus rex by the name of Bernard" and found his productivity operated at less than optimum when he'd been "bitch-slapped and cursed at all night long by [a] bunny."
It was a playful introduction to this impressively talented artist who confessed in more serious tones that "I love getting to create imagery, it makes me happy and for me it functions as both work, play, and therapy all in one! And the bonus is when my imagery makes other people smile and happy smile."
Read the full profile at the Phoenix New Times blogs.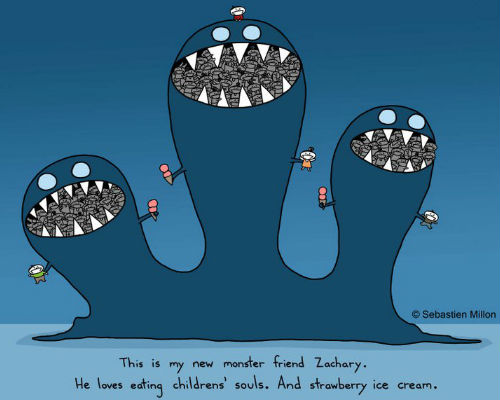 And make no mistake about it, for all his sweet-laced lunacy, Sebastien Millon, who began his current highly-successful business of colourfully loopy T-shirts, greeting cards and prints in 2009, leading to a spot at 2011 Phoenix Fashion Week, is a man who wants to make art that matters and craft a successful living from it, as he told PHX People in a 2013 interview:
"When I was sick [he was sick with malaria-like illness for a time], I decided owning my own business was what I wanted to do, since any work I create, I own the rights. I wanted to pursue my own vision, which is a big-time luxury for any artist. I'll do some freelance work every once in awhile, such as for "Phoenix New Times," but it's really not my favorite thing to do. I'd rather just own my own thing."
He began his professional career as a painter, working full time at an art store in Chicago after graduating college in 2004 while creating artwork in his spare time but after moving to Phoenix where his family resides (they moved there from Belgium via a slew of locations when he was 12), and battling the afore-mentioned illness, decided that the art world (and society in general) needed a little more well-produced serious whimsy.
And thus his wonderfully wacky illustrations were born, drawings which feature owls, bunnies (carnivorous or otherwise), unicorns, and bears, and which draw inspiration from a mix of pop culture sources as he told PHX People:
"I'm inspired by Looney Tunes, because it's a wacky humor with animals and really silly. I always loved Calvin and Hobbes, as well, which is sort of snarky but also really sweet and a magical world. I always had a love for that kind of stuff. For me, the creation of these characters was a way for me to escape with my health. Now, the main reason why I do it is it's fun for me. I really like to make people smile, even if it's a little dark sometimes. Sometimes, I feel like it's healthy to laugh at the darkness."
It's that willingness to make fun of the darker sides of life, via creatures that are for the most part associated with its more and fuzzy aspects, that lend his imaginative art such an immediate, addictive appeal and makes you want to own everything he has ever produced, credit card limit overruns be damned.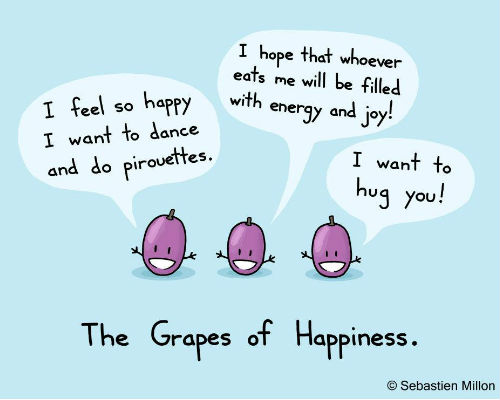 That was certainly my response when I came across his material on Facebook, via a friend who was sure I would find a kindred spirit beating inside these tales of Kiwi fruit-toting Kiwi birds, owls with headphones who love "big beets" (created for a nutritional program he supports called Hip Veggies, along with charity Free Arts Arizona, which uses "uses art therapy on behalf of abused, homeless, and at-risk children") and, fittingly given my love of North American elk, apple-juice loving moose with a keen sense of balance.

I was fascinated by an artist who was able to give voice to our darker thoughts via art that was simultaneously gut-bustingly funny and intelligently provocative in the best possible way, who could craft a beguiling mix of the silly and the serious so compelling that you would happily lose hours checking out all the various designs (he estimates he has done about 1000 to date).
Sebastien Million is a supremely talented, big-hearted, highly insightful individual who has made my life a million times better by unleashing the inner Looney Tunes character in me, reminding me and his many fans that taking a slightly more twisted view of life can be one of the most rewarding and thoroughly enjoyable things you can ever do.
(Apart from buying his cards, T-shirts, books and prints at the sites listed after the next delightful drawing.)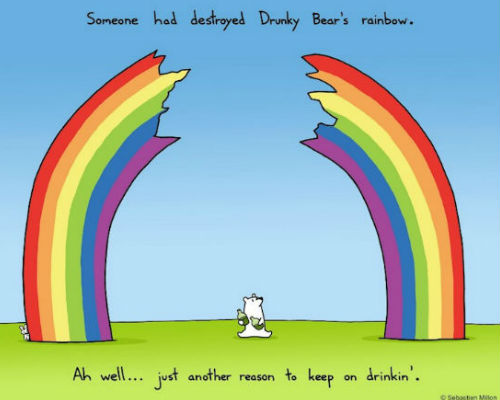 You can find so much more of Sebastien Millon's fantastically, delightfully imaginative work at either his official site, Facebook page, his Twitter feed or his Tumblr blog.
He also maintains a store at Etsy.