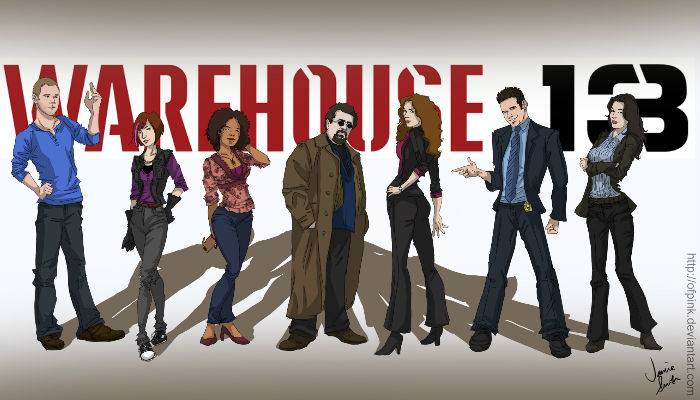 Warehouse 13 is one of those rare shows that I fell in love almost from the word go.
There was something about it's distinctly postmodern mix of the supernatural, the mythological and the downright fantastical, and a cast of passionate but thoroughly whimsical characters that grabbed me minutes into the first episode and didn't let go.
And now, as is the way with so many of syfy's shows that don't seem to make it past a fifth season, Warehouse 13 is staring down the barrel of its own demise and I don't think there is an artifact in the world that can prevent that alas (although if there is, I guarantee Artie and the gang will find it!)
For those of you not familiar with this highly imaginative, beautifully well-written show, it centres on the mysterious Warehouse 13 situated out in the barren wilds of rural South Dakota in which are gathered a host of "artefacts", all of which were owned by notable people through history and which possess powers both good and bad which must be kept out of the hands of humanity.
It is the jobs of people like Myka Bering (Joanne Kelly) and Pete Lattimer (Eddie McClintock), former US Secret Service Agents, who are recruited by the mysterious, fast moving Mrs. Irene Frederic (C. C. H. Pounder) and overseen by the irascible Artie (Saul Rubinek) who also has his hands full with the spirited Claudia (Allison Scagliotti) who is like a daughter to him and Steve Jinks, an ex-ATF agent who is like a surrogate brother to Claudia.
This idiosyncratic family of agents, all overseen by the shadowy but well-intentioned Regents, are tasked with tracking down artefacts, of which there are many still in the world, and isolating in Warehouse 13 (yes there have been 12 before it dating back into antiquity) well away from the greedy hands of those who would use them for their selfish and nefarious purposes.
Warehouse 13 is that rare show that can mix goofy humour and heart pounding action, cracklingly fun dialogues and heartfelt moments and never once feel that it is anything but a cohesively put together with its own very firm identity.
On its launch it was described as "part The X-Files, part Raiders of the Lost Ark and part Moonlighting" by syfy (check out the original announcement from 2007) and that has pretty much been the way it's played out, leveraging every one of those elements to engaging, entertaining effect.
It captures the imagination, the heart, the funny bone and the need for mythos and wonder and does it so very well that it's truncated final season of just six episodes – far too little time to wrap up a show this complex and well put together; in that respect I must agree with denofgeek who railed against such a short last season – is going to make it very hard to see off the show in the manner in which it deserves.
Still shows like Eureka, which also received poor final season treatment at the hands of syfy, managed a brilliant send off with not many episodes to work with, and I have every faith that the producers and writers of Warehouse 13 will do the same.
It will just be very sad to see them do it, as it is when every well loved series ends.
Warehouse 13 returns for its fifth and final season on 14 April at 9/8c.