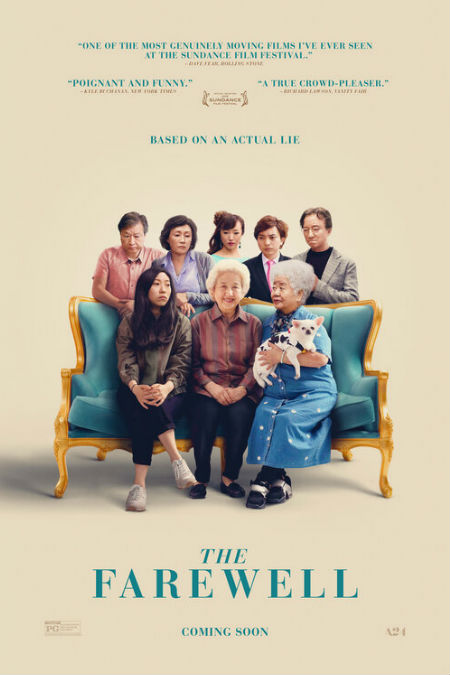 SNAPSHOT
Directed and written by Lulu Wang, The Farewell follows the story of a Chinese-American woman named Billi, who goes to China after her grandmother, Nai Nai has been diagnosed with a terminal lung cancer. Billi's family chose to kept the illness from Nai Nai due to a Chinese saying. In order to get the family together without the matriarch knowing the real reason of the sudden gathering, they've organized a sham wedding as an excuse to spend time with her before she dies.


The film's story was based on Wang's her own family experience that she first shared on an episode of This American Life. It stars Awkwafina (Ocean's 8, Crazy Rich Asians) as Billi, Tzi Ma as Haiyan, Diana Lin as Jian, Zhao Shuzhen as Nai Nai, Lu Hong as Little Nai Nai, and Jiang Yongbo as Haibin. (synopsis via Coming Soon)
Dealing with the impending loss of a loved one is never, ever easy.
I can still recall how awful it felt as my beloved grandfather laying dying over the course of six weeks in hospital, knowing that sooner rather than later I would have to bid farewell to a man who got me in a way few others did.
The only good thing in this whole horrible saga was the way my family all bonded together, supporting each other and making sure that we all got a chance to spend time with Granpa and let him how very loved he was 9and yes, 20 years later, still is).
In Lulu Wang's upcoming film, The Farewell, which she wrote and directed, we get a chance to see how this more Western way of coping with such a sad event contrasts with the Eastern approach which is to subsume the need of the indidual to say goodbye with the greater need for familial cohesiveness.
Starring breakout star, Awkwafina, the film balances searing emotion with a light, banter-y tone that explores what happens to someone when they straddle these two worlds and end up falling somewhere awkwadly in the middle at a time when all you want is to hold the person you love close and tell them how much you love them.
Look for The Farewell, a standout from this year's Sundance Film Festival to knock it out of the park emotionally, as well as reminding us that while everyone feels the same, the expression is not always identical.
The Farewell opens 12 July in Australia with an Australian release date yet to be advised.