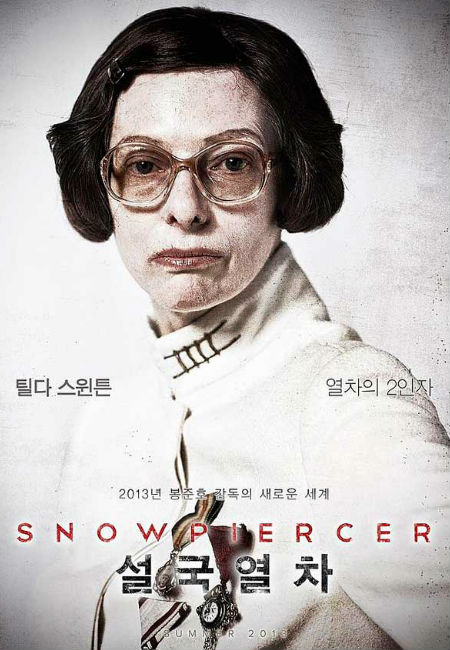 SNAPSHOT
After a failed experiment to stop global warming, an Ice Age kills off all life on the planet except for the inhabitants of the Snow Piercer, a train that travels around the globe and is powered by a sacred perpetual-motion engine. A class system evolves on the train but a revolution brews. (source: teaser-trailer.com) 
Snow Piercer, starring an almost unrecognisable Tilda Twinton and Chris Evans is the first English language movie from famed Korean director Boon Joon-Ho, a man known for his love of blurring the line between film genres.
Based on the French graphic novel, Le Transperceneige (1983) by Jacques Lob and Jean-Marc Rochette, Snow Piercer is exactly the sort of story that this adventurous director will excel at bring to vivid life if his entry on koreanfilm.org is any guide:
" … his films are filled with (often black) humor and sudden mood shifts, making for an emotional roller coaster ride. The fact that he is able to combine all these contrasting elements into such a smooth whole is Bong's particular strength as a filmmaker.   (Darcy Paquet)
A story of rigidly-enforced stark demarcations between rich and poor, and the almost inevitable revolution they give birth to, is ripe for a visionary cinematic interpretation, and Boon Joon-Ho looks to be the one to deliver.
If he does he will be in good company with the similarly lauded, and highly-regarded South African-Canadian director Neil Blomkamp's Elysium (due out August 2013) addressing many of the same pressing and all too relevant, social concerns.
It is a good year for filmgoers who want to be simultaneously shocked and awed by stunningly-realised worlds and richly-drawn characters backed by intelligent, well thought-out narratives, and bodes well for the future of cleverly-told dystopian tales.
You can see some of the brilliantly-imaginative concept art behind the film at popmovies.fr.
Snow Piercer opens in South Korea on 1 August 2013 with Russia and France following in October. No word on USA or Australia dates at this time.