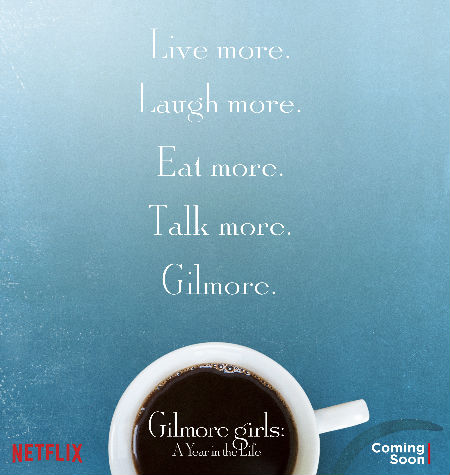 Waiting for the chance to return to Stars Hollow is proving well nigh interminable with the Gilmore Girls scheduled to premiere on Netflix sometime later this year.
But at least we now have a title – thanks to an announcement by Lauren Graham on The Ellen DeGeneres Show (see video below) – and a poster which winningly involve all the things we love about Lorelai and Rory (Alexis Bledel) Gilmore and the idiosyncratic friends and family who surround them in their lovely quirky corner of Connecticut.
As previously reported, the 4 episode revival will focus on the loves and very talkative lives of the Gilmores, with each 90 minute instalment taking place in one season of the life.
Pretty much everyone is back after eight eventful years save sadly of course for Lorelai's dad Richard (Edward Herrmann) who pass away in 2014, and Scott Cohen who played one of Lorelai's love interests teacher Max Medina.
No word yet on the exact storyline – here's everything we do know – but Scott Patterson who plays Luke, the real love of Lorelai's life has hinted that the uttering of the famous final four words will not necessarily signal the end of all things Gilmore Girls.
Which means there may yet be further adventures in Stars Hollow which is perfectly fine by me.
Where they lead, I will always, without a shadow of doubt, most definitely follow.