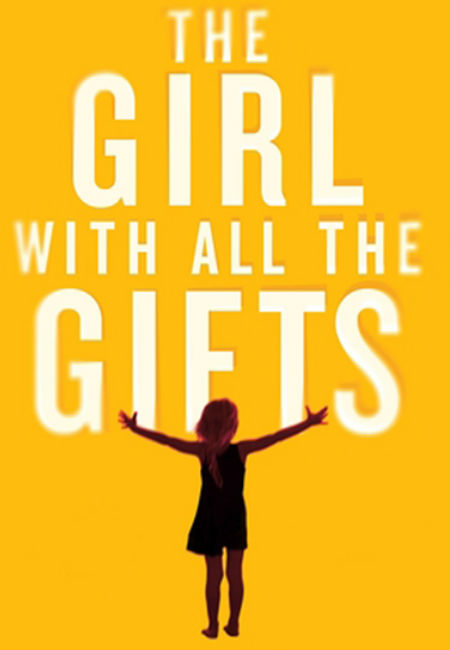 SNAPSHOT
The near future; humanity has been all but destroyed by a mutated fungal disease that eradicates free will and turns its victims into flesh-eating "hungries". Only a small group of children seem immune to its effects.

At an army base in rural England, this group of unique children are being studied, subjected to cruel experiments by biologist Dr. Caldwell. Despite having been infected with the zombie pathogen that has decimated the world, these children retain normal thoughts and emotions. And while still being subject to the craving for human flesh that marks the disease these second- generation "hungries" are able to think and feel making them a vital resource in the search for a cure.  (official synopsis via Den of Geek)
Humanity has long proven it has an endless capacity to endure and survive.
Granted you wouldn't get that impression from the majority of apocalyptic literature out there which usually posits the end of the world as the end of everything good and worthwhile about us.
But a raft of books in the last few years have dared to ask – What is the end of all things was in fact just another beginning? Terrifying, disruptive and chaotically destructive but a beginning nonetheless.
The Girl With All the Gifts by M. R.Carey is one such book, a brilliantly written dissertation of what might have happen if humanity found a way to survive to survive something as nightmarishly civilisation-ending as the zombie apocalypse; not just survive in fact but ultimately flourish in a feat of evolutionary survival.
It isn't immediate of course but the book, and now the impending movie starring Glenn Close, Gemma Arterton and Paddy Considine, encourage us to look beyond the immediate aftermath and to appreciate, as I said in my review of the book, "that humanity could survive the apocalypse, just not in the way we imagined."
It's the zombie apocalypse but not as we imagined it, a gripping tale that miraculously and with conviction and power dares to bring optimism to the dystopian table.
If the movie is even half as good as the book, and the trailer suggests it well could be, this is one film that even non-horror viewers should check out since at the heart of the narrative is the deep connection that exists between a remarkable young girl and her teacher, one which by its very depth and endurance ends up deciding the fate of humanity.
No release date has been set but release is expected later later in 2016.