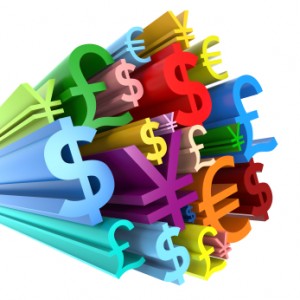 Ever since ABBA won the Eurovision Song Contest in 1974 with the aid of an upbeat pop song "Waterloo", the dulcet tones of Agnetha and Annifrid, and the tightest lycra pants known to man, the contest has been widely seen by the artists who participate in it as the perfect leg-up to a life of, if not international, then at least pan-European stardom.
But spare a thought for the country that sent that winning artist to sing and stand triumphant on a glitter-covered stage. They are not normally celebrating quite as enthusiastically.
National pride aside, and as Germany demonstrated when Lena won in 2010 with the oh-so catchy song "Satellite", that can be considerable – the national broadcaster cancelled its normal schedule to telecast her triumphant return home to scenes of wild adulation by her countrymen – a win by your country's designated representative automatically means you host the event in the following year.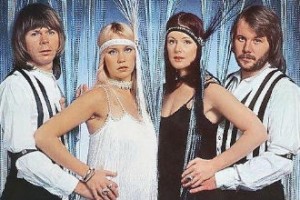 Money, Money, Money
And the costs for that can be considerable. Norway's national broadcaster NRK was rumoured to have spent 25-30 million Euros hosting the event in 2010, reputedly having to sell their rights to telecast the World Cup to finance it while Russia spent at least reportedly shelled out about 35 million Euros or so to throw its grand Eurovision bash in 2008. This year's hosts, oil-rich Azerbaijan have raised the stakes even higher, spending $100 million to broadcast the two semi-finals and the glittering grand final over three nights, a figure that doesn't even take into account the price ticket for the stadium that was purpose built for the event.
That kind of money is no issue for Azerbaijan which is awash in bounteous revenues flowing from their burgeoning oil industry. But what if you don't have that sort of money to spend and let's face it, with its position at the epicentre of the Global Financial Centre and the crippling recession that has followed it, few countries in Europe do?
Try not to win at all?
The sensible option of course is not to win the contest in the first place, and it's long been alleged that the less than professional quality of many countries' entries has less to do with a paucity of homegrown talent – an idea without much merit given the robust music scenes in almost European countries – than with their desire to be as far away from the awarding of Douze Pointe (12 points), which is the highest score than can be awarded by voters, as possible.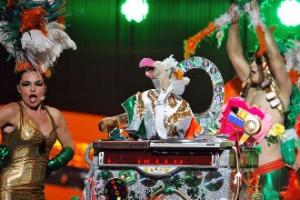 If this is in fact the strategy many countries have adopted, it would explain why Ireland, who won the event three times in a row in the 1990s (1992, 1993, 1994, the most consecutive wins by any country in the history of the contest) entered a puppet, Dustin the Turkey, as their official entrant in 2008 with a song ironically titled "Douze Pointe." That is one song title you can definitely say was not aspirational.
Ireland's reluctance to win, all anecdotal rumours and conspiracy theories aside, is understandable. It has been long said that the cost of staging three events in the early to mid 1990s almost bankrupted RTE the national broadcaster. And this was before Denmark upped the ante in 2000 by staging the event in a stadium filled with 39,000 people where previously a large studio had been deemed more than sufficient, significantly increasing the cost for all successive hosts as a Eurovision "arms race" was launched to make each year bigger and brighter than the last.
But while there's no doubt that host that many Eurovision finals put a strain on RTE, the burden was not quite as apocalyptic as claimed.  Even so, the cost for smaller countries was such an imposte that the funding rules were changed so that by 2004 the host broadcaster was only paying, by the estimation of RTE's then commissioning editor, Dennis Lenihan, a third to a half of the final bill.
Interviewed on BBC Worldwide's The Music Biz programme, and quoted on the BBC News website titled "The price of Eurovision victory", Lenihan explained the way the new funding arrangements work:
"The bigger broadcasters now are really the ones who are paying a bigger whack of the budget than heretofore, and the big four – Germany, the UK, France and Spain – carry a significant amount of the budget.
"It's a big expensive show but probably, in relative terms, it's not as heavy a burden on the host broadcaster as it would have been 10 years ago."
The times they are a-changin'
So fortunately winning Europe's premier musical contest is not as financially burdensome as it once was. But it can still put a big hole in a public broadcaster's budget, even with the revenue from broadcast fees and ticket sales so broadcasters are increasingly taking advantage of new opportunities being offered to them by would-be commercial partners eager to get some of the kitschy glamour for themselves.
One route that is becoming increasingly popular is for the host broadcaster to jump into bed, so to speak, with sponsors. These companies use the events to trial new technologies and of course to get priceless exposure to an audience that consists largely of new media-acquisitive young people, all of whom sit squarely in the demographic so beloved of media companies. Lenihan underlined that having these technical companies come aboard was a win-win for all concerned and helped defray the costs of broadcasting the event considerably.
"A lot of companies at the time saw it as an opportunity to show a whole range of new technical innovations that were coming in. So we actually did get a lot of support from these companies that didn't cost us an awful lot of money."
The other strategy, which Germany's coalition of publicly owned broadcasters, ARD used when it hosted Eurovision in 2011, is to partner with a commercial counterpart and defray the costs. Their partnership with private broadcaster ProSieben was by all accounts a smashing success. ARD didn't have to tighten its belt anywhere near as much as expected, it still got the kudos for hosting a lavish ceremony, and garnered 61.6% of the viewing audience (including those highly desirable younger viewers who had been deserting it in droves up to that point) and ProSieben were able to attract the bask in the glow of Eurovision glory by association with the added benefit that they got one up on their rivals at RTL.
Money doesn't make everyone's world go round
But for some countries, the win is not seen in commercial terms. While they realise it will be an expensive undertaking to stage Eurovision, they rationalise that the exposure it will give them will more than make up for the money they will have to outlay.
Certainly this was Estonia's attitude when it won Eurovision in 2001, thanks to Dave Benton and Tanel Pader's victory with the song "Everybody". It decided that staging the contest in 2002 was a more than worthy use of its entire tourism budget and used its stint as host to showcase a modern well-developed country that had emerged successfully from the wreckage of the USSR. For the Estonians the cost was more than worth it given the exposure it gave them to Europe, and indeed the world.
Dennis Lenihan backs the worth of Eurovision as a booster for national pride. He says that contrary to reports that RTE had to gut its entire light entertainment budget to pay for Europe's musical night of nights, that RTE had survived its unprecedented three years in a row of hosting, and moreover, that Ireland had gained more from eager visitors wanting to embrace the delights of the Emerald Isle that it had outlaid to bring Eurovision to the world.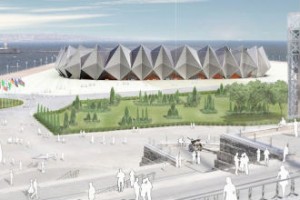 So it seems for the most part that far from being the anteroom to a life of everlasting financial hell, that hosting the Eurovision Song Contest doesn't have to cost the earth – although Azerbaijan seems intent on trying to go at least partway to that point – and can bring added intangible benefits such as a boost to national pride and valuable exposure to hopefully would-be eager visitors.
Oh, and more leftover lycra and Ukrainian grandmothers that you know what to do with.