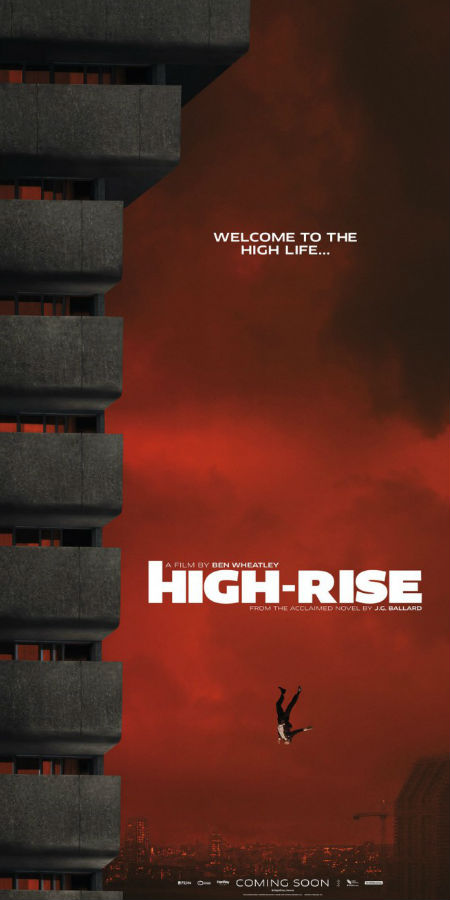 SNAPSHOT
A big screen adaptation of J.G. Ballard's novel, High-Rise centers on a new residential tower built on the eve of Margaret Thatcher's rise to power, at the site of what will soon become the world's financial hub. Designed as a luxurious solution to the problems of the city, it is a world apart.

Enter Robert Laing (Hiddleston), a young doctor seduced by the high-rise and its creator, the visionary architect Anthony Royal (Irons). Laing discovers a world of complex loyalties, and also strikes up a relationship with Royal's devoted aide Charlotte (Miller).

But rot has set in beneath the flawless surface. Sensing discord amongst the tenants, Laing meets Wilder, a charismatic provocateur bent on inciting the situation. Wilder initiates Laing into the hidden life of the high-rise and Laing is shocked at what he sees. As the residents break into tribal factions, Laing finds himself in the middle of mounting violence. Violence that he also finds emerging in himself. (synopsis via Coming Soon)
If you watch the advertising of luxury brands, you could be forgiven for thinking that the world they depict is flawless, perfect, beautiful, the epitome of living well.
And as far as that advertising goes, it is; after all who is going to want to partake in a high end lifestyle if below all the glitz and glamour, the bubbly and the parties, lies the same old troublesome Lord-of-the-Flies humanity that besets lesser mortals?
As J. G. Ballard's novel shows all too well, humanity will out no matter the social situation; we might like to think that pasting a thin veneer of cultured sophistication across our troubled souls is enough to smooth the waters but the reality is that people will still be people and we'd be fools to think otherwise.
High-Rise is chilling and unnerving yes but also highly instructive; self-interest rules all, no matter the strata of society you occupy and the sooner we realise that, the better off we will be.
Assuming we survive the experience. You have been warned.
High-Rise opens 18 March in UK, and 13 May in USA (theatrical; internet 18 April.