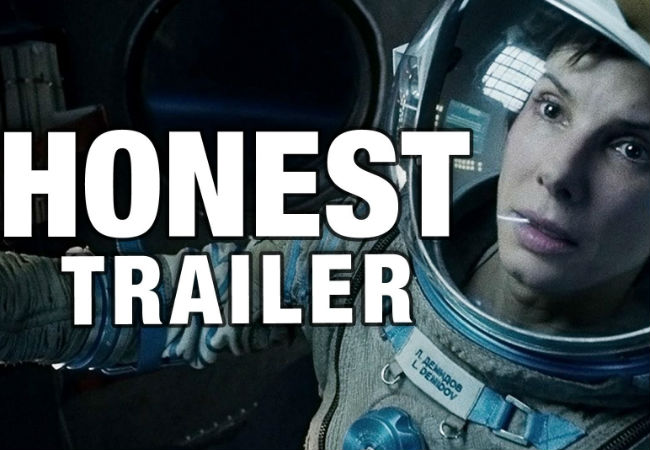 There are many things I enjoyed about 2013 (and some I did including losing my job: yeah, no, still don't know where I put it! Boom! Tish!), and prime among them was Alfonso Cuarón's mesmerising film Gravity, starring my favourite actor in the world (and in this case, orbiting above it) Sandra Bullock.
It was an edge of your seat, gorgeously visual movie which stripped the fight for survival down its bare basics and told a gripping story into the bargain.
Here's my review of the movie.
And yet while I love this movie with all my heart, and hope it does spectacularly well at the upcoming Academy Awards ceremony, I am thrilled beyond words that Screen Junkies, who have tackled many movies including Thor, World War Z and Skyfall, have turned their very funny eyes upon the film and produced an unflinchingly Honest Trailer for it.
The joy of their trailers is that, even if you love a movie the way I love Gravity, is that they affectionately lampoon all those things you might have thought about it but didn't utter and which, heavens forbids, the film's promo department would never even countenance admitting to (except over one vodka too many at Friday night drinks).
Did Ryan Stone (Sandra Bullock) verbally outline all the major upcoming plot points? Should she have been in space to begin with? Can anyone really out-do the George Clooney-ness of George Clooney? And can you watch Gravity on your smartphone? (That would be a NO.)
It's all the plot holes and suspensions of belief laid bare and had me laughing so hard that the neighbours asked if I could go and watch it in the International Space Station in orbit because, well, you know, in space no one can hear you laugh.
And trust me, even if this movie is your pick of 2013 (and it should be), you will be laughing a lot.
Just keep the visor down will you?