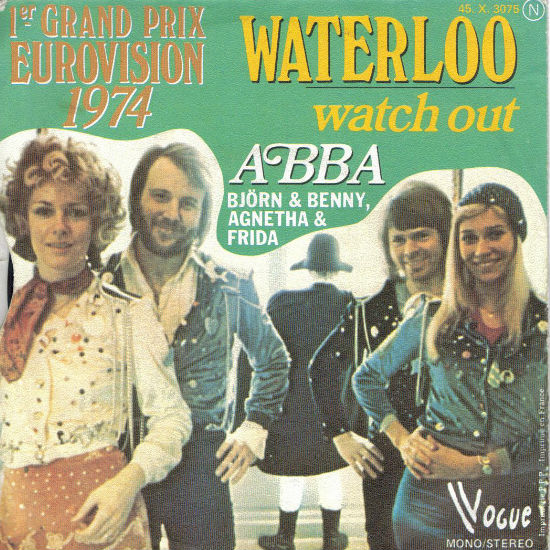 When ABBA, Sweden's youthful and highly unorthodox entry for 1974's the Eurovision Song Contest in Brighton, England, walked on stage in all their extraordinarily tight glam pop glory, it was clear that the staid world of Europe's post World War Two musical experiment in good neighbourliness, was in for an historic shake up.
Just how historic wasn't apparent till ABBA launched into the infectiously upbeat strains of "Waterloo", a song which declared in two minutes and 42 seconds of concentrated pop perfection, that giving into true love and Napoleon's defeat at the titular battle were inextricably linked thematic birds of a feather.
Singing to an audience bedecked in their tuxedo and evening gown finest, and with 16 fellow competing entrants from countries like Italy and the Netherlands dressed in a similar fashion, ABBA looked and sounded like nothing the Eurovision Song Contest had ever seen before.
With a song that was already garnering considerable airplay on British radio (and which went on to chart in the #1 position in the UK, Australia, Belgium and Ireland, among others) and the sort of glamorous stage presence borne of years as established names in the Swedish music industry, ABBA, status quo unsettling potential fully armed and ready, were certainly in with a very good chance of winning.
But for all the favourable attention they had attracted, the fresh-faced group, which was made up two couples,  Björn Ulvaeus and Agnetha Fältskog, and Benny Andersson and Anni-Frid (Frida) Lyngstad, were not considered the slam dunk winners of the glamorous event held on 6 April 1974 at the Brighton Dome by the legendary Katie Boyle (who hosted the event a record four times), that honour going to The Netherlands' Mouth and MacMeal with "I See a Star".
But quite how historic that win would eventually be regarded only became apparent with hindsight and the ability to see how game-changing ABBA's very un-Napoleonesque victory was in the wider context of the changing nature of the Eurovision Song Contest and their own world spanning decades-enduring success.
For a start their song, "Waterloo", revolutionary at the time, and a far more saleable choice that the other song on the Swedes' table, the MOR-heavy and far Eurovision acceptable Hasta Mañana, was musically worlds apart from the other songs on offer that night (to highlight just a few):
* "Long Live Love" by the UK's Aussie import Olivia Newtown-John, which the singing star disliked intensely by all accounts but had to sing after it was voted the official entrant song by British voters.

* "Sì" by Italy's Gigliola Cinquetti, whose performance finished the evening but was not seen by her fellow citizens thanks to a fear by the state television channel RAI that voters may interpret that as side-taking in a referendum on divorce in the country the following month.

* "E depois do adeus", a song about the sweet mysteries of love performed by Paulo de Carvalho, which was the secret trigger for the launching of the Carnation Revolution, which toppled Portugal's entrenched Estado Novo regime.
"Waterloo", aptly described by Charlie Carter in a recent article on The South China Morning Post site, as "signature glam pop, garnished with Benny's complex piano flourishes  and Agnetha and Frida's high-register harmonies", was the precursor to the more pop-centric orientation of the Eurovision Song Contest in successive decades.
Together with their vividly memorable satin costumes – they even fittingly dressed their conductor Sven-Olof Walldoff as Napoleon -presaged the luminously over the top staging and musical sensibilities of today's crop of Eurovision hopefuls, all of whom owe much of their highly theatrical approach to the contest to ABBA's pioneering performance.
Granted it is likely the change would have happened anyway given the late 70s arrival of punk and disco, and the much later infusion of Eastern bloc enthusiasm into Eurovision, but every revolution needs a catalyst and ABBA, who saw the contest as a way of breaking into English-speaking territories like the UK and USA, were it on that spring night in Brighton.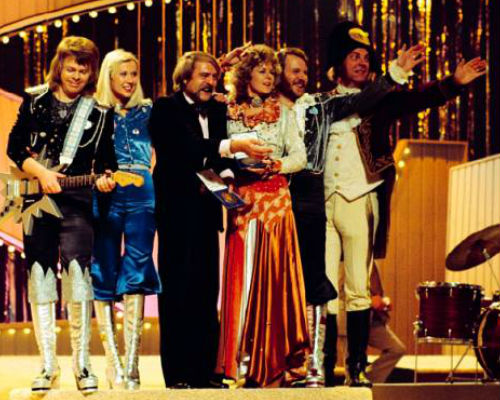 ABBA, powered by Björn and Benny's nous and their necessary perfectionistic tendencies needed to craft truly memorable, enduring tunes, were also the first act to truly use Eurovision as a launching pad to worldwide pop chart domination.
While other winners such as Lys Assia (Switzerland), who won the first staging of the Eurovision Song Contest in 1956, Sandie Shaw who triumphed for the UK in 1967, and Vicky Leandros (Luxembourg) in 1972, went on to enjoy highly successful careers, ABBA made pop history, as Christopher Muther pointed out in an article for The Boston Globe:
"… the members of Abba were pioneers. They slipped on their platform boots and smashed walls that previously prevented international bands from achieving world success."
Breaking out of Europe in a big way, they attracted fanatically loyal fans in a way no other band has done besides The Beatles, in countries as diverse as Australia, Japan, Argentina and after a great deal of effort by manager Stig Anderson, USA.
Selling an estimated 380 million albums and singles to date, ABBA's follow up songs to "Waterloo", such as "Mamma Mia", "SOS", "Dancing Queen", "Fernando" and "Money, Money, Money", all of them wildly successful wherever they were released, built on the spectacularly successful night at Eurovision in a way no group had done before, or has accomplished since.
But as Christopher Muther rightly points out in The Boston Globe post, ABBA's win at Eurovision also paved the way for other non-English speaking acts who chose to sing in English as ABBA did, to find success:
"Previous to Abba, there were few non-native English-speaking acts that regularly charted outside of their countries. But Abba's manager Stig Anderson had his sights on America and England, and the band switched its musical language from Swedish to English. Would there have been an Ace of Base or a Robyn without Abba?"
It was a victory that has rippled down through time, not simply for ABBA, who are still enjoying considerable success today (despite going on hiatus in 1983 never to officially reform) but for many of the acts that followed in their wake.
And finally ABBA made history on that much fabled night in Brighton by giving Sweden its first win in the then 18 year history of The Eurovision Song Contest, which was followed by victories in 1984, 1991, 1999 and of course 2012 when Loreen's ecstatically joyful "Euphoria" swept all before it.
According to Jamie Mcloughlin though, writing on Boombangablog, ABBA were not quite the runaway winners time has made them out to be:
"There were 17 countries taking part, with a possible maximum score of 160 points. ABBA won with just 24 votes, and only six ahead of their nearest rival.

Considering Sandie Shaw had taken 47 votes (out of another possible 160) seven years earlier, and Dana had secured 32 votes in 1970 in an even smaller field, it becomes clear that the public took to ABBA a lot more easily than some Eurovision juries did."
Nevertheless, while the juries may not have been especially enamoured of ABBA, most importantly the public were, not simply on the night but in the successive decade in which they ruled the pop charts and beyond, and it was they who gave victory to ABBA, and by extension Sweden, opening the way for both a host of Swedish acts to follow, and the country's ongoing success at the Eurovision Song Contest.
While you could well argue that you can trace ABBA's ascendancy back to the 1970 song "Hej Gamle Man!", which was the first time the four members had recorded together, their true moment in the international spotlight came on that fateful night in Brighton when one perfectly-written and performed pop song, and four enthusiastically upbeat Swedish pop stars redefined what the Eurovision Song Contest would come to mean to Europe for many years after.
It granted the contest a relevancy way beyond the borders of the then unifying European community of nations, revolutionised the songs successive contestants sang and the way in which they performed them, and most critically for the band which would go on to dominate the pop charts in a way few have before or since, granted them a platform on which to build a career which, revived by a generation enraptured by the musical Mamma Mia (based on ABBA's hits), collections like ABBA Gold, and movies such as Muriel's Wedding, shows no sign of losing its historic lustre or importance any time soon.