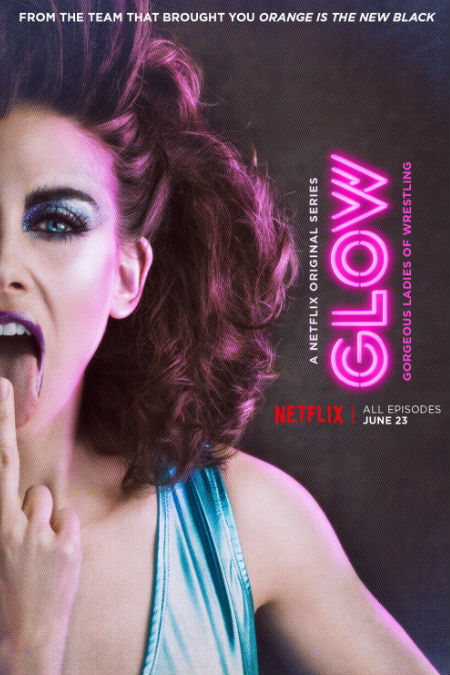 As decades go, the 1980s were, possibly even more than the lurid, out there '70s, pretty hard to miss.
Drenched in hypercolour T-shirt vivid pastels, decked out in lurid leggings and shoulder pads the height of Everest, this was a decade that screamed "Look at me dammit!"
It was also home, not surprisingly, to the Gorgeous Ladies of Wrestling (G.L.O.W.), a four season TV phenomenon that introduced women into the highly-rehearsed, tightly-scripted realm of professional wrestling where persona and backstory often played a far greater role than the actual sport itself.
An essential forerunner to reality TV with its propensity for skewing the events onscreen for maximum narrative punch, G.L.O.W. continued on in other forms following its on-air cancellation; its heyday, however, was the gloriously brash and colourful '80s, the perfect setting for Netflix's 10 part GLOW series.
Created by Liz Flahive and Carly Mensch, the series begins rather inauspiciously with schlock horror movie director, Sam Sylvia (Marc Maron), a coked-up man who takes his art seriously, hiring 14 women for an as-yet undisclosed TV series, on behalf of rich kid in search of a purpose Sebasian "Bash" Howard (Chris Lowell).
Summoned to a gym that has seen far better days, the women who turn up in multitudinous abundance to Sam's mysterious casting call are, like many creative people who have laboured long, hard and fruitlessly in obscurity, desperate for some kind of break.
Anything really but hopefully one that will make all the poverty, suffering for their art and lost life opportunities, worth their while.
Once Sam announces what GLOW is exactly, many of those women walk out, probably rightly surmising that this is really what they signed up for when they moved to L.A, to pursue their acting dreams.
But the ones who stay, bemused, uncertain and remotely hopeful in pretty much equal measure, and are selected to become one of the eponymous Gorgeous Ladies of Wrestling, end up going on an adventure that is a made-up rollercoaster ride – Bash particularly and, by extension, Sam, are flying by the seat of their pants – that affects them personally and professionally in ways they never saw coming.
Chief among them is Ruth Wilder (Alison Brie, Community) who is fresh from a failed audition where she deliberately read the man's substantial role in protest at the paucity of meaty women's roles – sadly a situation which has only marginally improved over 30 years later – and the ignominy of sleeping with best friend Debbie's (Betty Gilpin) husband Mark (Rich Sommer).
With the enmity between the two women spilling over into the wrestling ring when Debbie, who considers herself a serious actor, storms into the casting call, painfully fresh from finding out about her husband's infidelity, Ruth is caught in a professional and personal whirlwind, desperately needing to land a part in G.L.O.W. to give her seriously-addled life some meaning.
Their impromptu grudge match lands Debbie a role in the show, much to the mutual chagrin of the two former friends, with both women having to figure how they can work together in what are fairly close quarters – not surprisingly there's a lot of touching, grabbing and holding involved in the still-evolving show where Debbie and Ruth are known as "Liberty Belle" and "Zoya the Destroya" respectively – in a time of mutually-stressful great upheaval.
Joined by a diverse cast of idiosyncratic women, all needing G.L.O.W. to work for a plethora of reasons – standouts include Sydelle Noel as Cherry "Junkchain" Bang, Carmen "Machu Picchu" Wade and Jackie Tohn as Melanie "Melrose" Rose – GLOW's narrative concentrates on exploring who these women are and why they need these highly-unorthodox roles, all while Bash and Sam do their best to get the groundbreaking show on TV.
Of course, this is the '80s so while the suits who control the TV dials are still conservative, there's also an awareness that times are changing and that television needs to change with it.
Refreshingly though, while there are a great many instances where the machinations of getting a show onto TV feature heavily, GLOW spends the bulk of its time on its female characters, and Sam who can't help but play a major role, a man as driven by the demons as the proto-female wrestlers themselves who are on a very steep learning curve.
While not overtly feminist, GLOW acknowledges right from the opening scene where Ruth, who is likably intense and earnest, providing the heart and soul of this hugely-appealing show, is fruitlessly trying to persuade a female casting director to give her a show at a real role, that things are tough for women.
They are denied the best roles, little to no creative freedom and spend much of their times as background filler or in small bit roles that never amount to anything more than announcing that someone is at the door.
GLOW doesn't shy away from the grim reality of this situation, depicting the desperation, and later zeal when the show, which all the women dubiously embrace with no real choice given their non-existent alternate options, comes to mean a great deal to them all.
It's real genius though is depicting how the outwardly cartoonish show where every bout is rigged and there's an ounce of spontaneous action – characters and scenes are scripted to within an inch of their lycra-clad lives – comes to be their salvation.
Professionally, they become integral to the show's success, given a huge hand by Sam, who frankly is going out on a wing and prayer directing the show with only the vaguest of ideas about what it will look like in the end, to shape their characters, craft their routines and make G.L.O.W. move from Bash's adolescent fantasy to an actual show that can garner the ratings to keep it on air.
All this creative freedom comes with personal liberation too with many of the women coming into their own as they realise how much power they have, finally, to control their own televisual destinies, and how profoundly this affects their often-battered sense of self.
The bonds this forms among a wildly disparate group of women – Cherry Bang is happily married to her gorgeously-supportive, cheeky husband Keith (Bashir Salahuddin) while Sheila "the She Wolf" (Gayel Rankin) is an emotionally-vulnerable goth who believes she is a wolf at heart – is one the great delights of this superbly well-written show, as you watch these 14 women, Debbie and Ruth navigating their way back to some sort of detente, come together as a close knit cast of characters.
Watching them not so much surmount the obstacles they face as somewhat successfully grapple with them – GLOW is not a show enamoured of twee happy endings although the finale, and some of the lead-up moments do have some requisite feel-good, dream-affirming moments – and seeing how they grow and change as G.L.O.W. goes from half-conceived idea to concrete reality, grants the show a deeply-involving emotional resonance that will propel you, in Netflix's trademark binge-like fashion, through the trials and tribulations, ups and downs, laughs and drama that make this show one of the standout offerings of the year.
Think the concept is too far-fetched? Here's the rap that opening the original 1980s show which ran for four seasons …