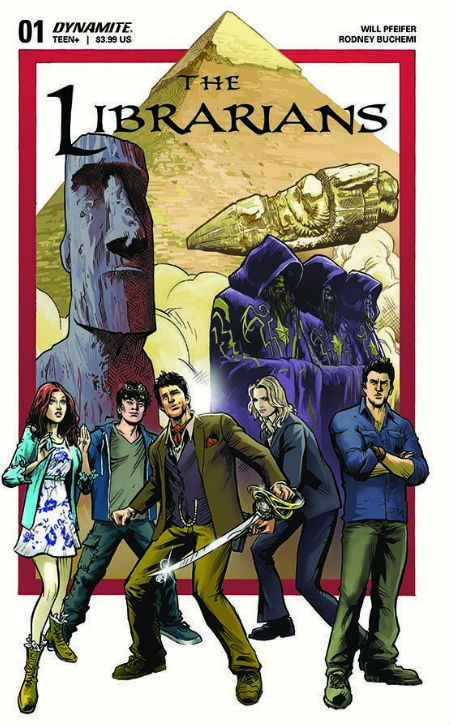 SNAPSHOT
Way back in the swinging '70s, movie producer Sol Schick was the guy behind such cheesy classics as Quarry: Bigfoot!, Noah's Ark: Found at Last! and Heavenly Visitors from the Hell Above. But when he's murdered – at a film festival! – with a piece of Noah's Ark! – The Librarians are drawn into the mystery. Can their combination of special skills, obsessive curiosity, and knowledge of forgotten lore figure out who – or what – spelled doom for Schick? And as they delve deeper into his past, is it possible that things are not as they seem and that all his crazy, wild movies…were actually telling the truth? (official synopsis via Bleeding Cool)
When two of my favourite quirky TV shows of the last decade, Eureka (2006-2012) and Warehouse 13 (2009-2014) came to an end, I wondered if there'd ever be another show that would provide me with such fun-filled, idiosyncratic, mythos-rich storytelling.
My fear that I would be cast adrift on a sea of just straight dramas and hilarious sitcoms – both of which I love but you don't want to live on them alone; I am nothing if not pop culturally omnivorous – was assuaged fairly quickly when I came across The Librarians (2014 – present), a series about a group of oddball people from a range of backgrounds who are charged with acquiring all kinds of knowledge and stopping it from falling into the hands of evildoers and the ne'er-do-well.
Based on a series of movies that ran from 2004 to 2008 and starring Noah Wylie as the impetuous though learned veteran Librarian, Flynn Carsen – he is a recurring character in the resulting TV series, The Librarians has just been signed to a fourth series, and now its own comic book series from Dynamite.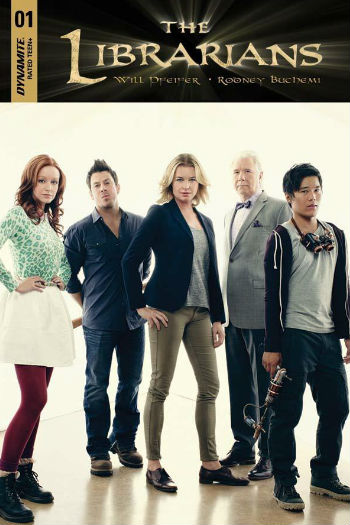 According to Bleeding Cool, Writer Will Pfeifer (Aquaman) and artist Rodney Buchemi (Uncanny X-Men) have been tapped to bring our quirky knowledge seekers and protectors to graphic life, with Pfeiffer excited about the possibilities that the broad narrative canvas of The Librarians allows for.
"The thing that really attracted me to The Librarians as a concept is that they're not just another group out to save the world. I mean, sure, they end up saving the world and seeing that mankind lives to see another day and all that, but their real focus is knowledge – getting it, keeping it and seeing that it doesn't fall into the wrong hands. In this day and age, a group of smart folks trying to get smarter is the sort of role model we need, and the fact that this knowledge always seems to be of the forbidden, arcane variety is what keeps things interesting. I had a great time coming up with some bizarre mysteries for them to uncover, and the combination of curiosity, humor and good ol' adventure made writing the series a real pleasure!"
The Librarians #1 will fall into the eager hands of fans in September this year.