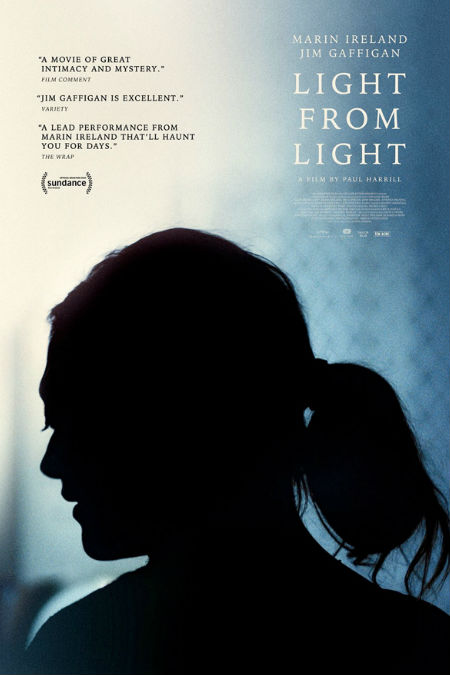 SNAPSHOT
Gifted with sometimes-prophetic dreams and a lifelong interest in the paranormal, Sheila (Marin Ireland) is asked to investigate a potential haunting at a Tennessee farmhouse. It's there she meets Richard (Jim Gaffigan), a recent widower who believes his wife may still be with him. The investigation that ensues — which eventually pulls in Shelia's son, Owen and his classmate Lucy — forces them to confront the mysteries of their own lives. Light From Light is both written and directed by American filmmaker Paul Harrill, his second feature after directing Something, Anything previously, as well as a few short films. Featuring original music by Adam Granduciel and Jon Natchez of the band called The War on Drugs. This first premiered at the Sundance Film Festival earlier this year. (synopsis (c) Flickering Myth)
Grief is disruptive.
It follows in the wake of the tumultuous, devastating loss of someone or something special and proceeds to upset the existential applecart still further, leaving us questioning the reality around us, a reality that in most cases once felt like the surest and most certain of things in our life.
In Light From Light, which stars Marin Ireland and Jim Gaffigan as two people thrown together in extraordinary circumstances who learn that in the messy chaos of grief how difficult the living of those left behind can be, and how what appears to be supernatural may be more material than we expect.
Given how intimately it appears to delve into these peoples' lives, the film carries an enormous emotional resonance, adding a very poignant aspect to what is to all intents and purposes a ghost story, borne out by the line uttered by Gaffigan's character who breaks everyone's hearts when he says "People think ghosts are scary… I think it would be wonderful if they were real."
The good news is that what the trailer suggests, appears to be borne out in the film proper, which has been shown at a number of films festivals this year including the Sarasota, Montclair, Oak Cliff, and San Diego Film Festivals.
The Hollywood Reporter had this to say about affecting this quiet but emotionally-powerful film is:
"The fog that cloaks the Great Smoky Mountains lends palpable atmosphere to Light From Light, an unconventional ghost story that eschews horror trappings in favor of subdued spiritual and emotional intensity. Acted with soulful feeling by a fine cast led by Marin Ireland and Jim Gaffigan, writer-director Paul Harrill's second feature is constructed around a paranormal investigation but is really more interested in the internal forces haunting its four principal characters. Modest in scale but rich in sensitivity, this is an unassuming film, made all the more transfixing by its defining delicacy and understatement."
Light From Light opens 1 November in the USA; international release dates have yet to be confirmed.