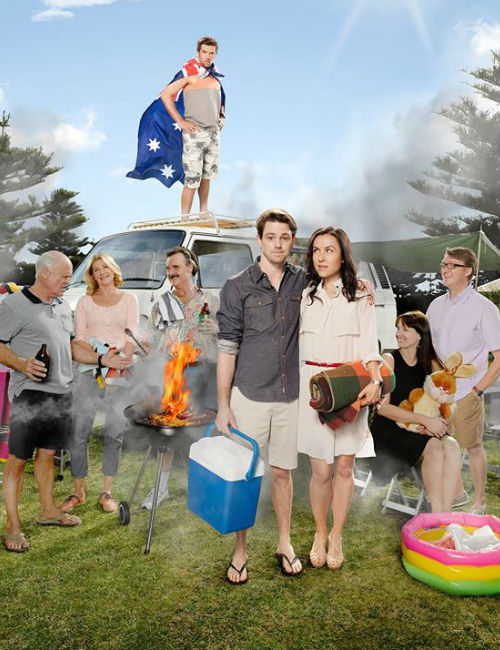 AWK-WAAARD.
If any word describes The Moodys, it's that one.
It neatly sums up pretty much every family event this wholly typical Australian family stages, and in that regard at least, would have to be emblematic of any family trying to have a trouble free gathering … and failing miserably.
It's not, of course, that they don't love each other.
As the first season of this show, A Moody Christmas, underlined all too well, they do love each other: they are just hilariously dysfunctional in its outworking.
And that, of course, makes for a sitcom ripe with all manner of comic possibilities, which the team behind the show, Trent O'Donnell and Phil Lloyd maximise to hilarious effect.
The setting in the first of season two's eight episodes is Australia Day, a day redolent with all manner of images, not all of which co-exist peacefully with each other.
Never afraid to tackle uncomfortable issues, whether familiar or societal, the script by O'Donnell and Lloyd leaps straight into the fray with Uncle Terry's (Darren Gilshenan) perfect spot right on the beach also sought after by an Aboriginal family who spend every second Sunday there with their extended family.
Angry that Terry has ignored his claiming of the ideal BBQ location, secured he thought by a pair of old thongs (flip flops), the father of the Aboriginal clan Fred (Kelton Pell) demands they leave.
When the Moody family refuses to, in an hilarious conversation redolent with the thorny issue of a Caucasian family telling an Aboriginal family they had the BBQ spot first, Fred, at the urging of his wife Sue (Pamela Young) makes his peace and shares some beers and sausages with The Moodys.
It's an ingenious, and very funny way, of gently acknowledging that Australia Day, in common with the national days of many ex-colonial New World countries, comes loaded with all sorts of cultural baggage, and isn't simply a day of lounging around drinking beers and eating snags (sausages) with family and friends.
That is, though, all that the chief protagonist of The Moodys, Dan (Ian Meadows) wish it would be.
Newly arrived back from the UK with girlfriend Cora (Jane Harber), and eager to impress her parents, Howard and Robin (Marshall Napier and Vanessa Downing respectively) that he is a worthy accessor to Cora's previous boyfriend, Dan's cousin Hayden (Guy Edmonds) who was much loved by the Bensons, he is willing the day to be uneventful, the very essence of whatever Australia's answer is to a Norman Rockwell painting.
Unfortunately this is real life, and this is The Moodys, and Dan's wish is, naturally enough, not even close to being granted.
In an ever escalating turn of events, Hayden unexpectedly turns up after an invite from the Howard Benson, fresh off a round the world sailing journey of self-discovery which has turned the former ambitious suit-wearing corporate wanna be into a long hair, well-toned New Age guru who is insufferably wise and all knowing, and this being one of the finest sitcoms Australia has produced, insanely funny.
His response to the bluebottle jellyfish sting that Dan endures is priceless as is his near effortless re-bonding with Howard Benson in particular, a marked contrast to Dan's near-continuous foot-in-mouth conversations with Cora's pompous father.
And the appearance by Dan's sister Bridget's (Rachel Gordon) gay ex-husband Roger (Phil Lloyd) is, as usual, rife with all sorts of awkward moments, not least his apparent inability to re-hash the loss of the custody of his adopted son to anyone who will listen, and many who don't want to, including a bemused Fred, Sue and family.
But it is the relationship between Dan and his brother Sean (Patrick Brammall) that has always been the heartbeat of the show, and this continues apace tonight with Sean, a 35  year old still living at home and in search of a raison d'etre for his life, pining for the family home which has just been sold.
Ignoring what his parents might parent, he remonstrates long and loud about their "betrayal", neatly sidestepping the fact he is a grown man living at home long after the other two siblings have moved out.
If that isn't enough he insists on going full bogan (a person with lack of manner or education), tying an Aussie flag around his neck and setting to drinking as much beer as he can with alacrity, a look that embarrasses Dan still valiantly trying to convince the Bensons he's worthy of their daughter Cora's attention.
Sean: "How do I look mate?"

Dan:  "Like you're going to get drunk and start a race riot."

Sean: Good! That's the look I'm going for."
Sean's existential family home-based crisis culminates in a very funny episode-ending scene that sums up everything that's good about The Moodys.
Primarily its ability to affectionately dissect the dysfunctional machinations of the Aussie (read any) family with pinpoint accuracy, neatly balancing the hilarious and the heartfelt, generating laughs certainly but never at the expense of rich characterisation or readily accessible, identifiable storylines.
It is by far one of the funniest, and socially incisive sitcoms to emerge from Australia in recent years, and I can only thank the TV gods that we have seven more episodes of The Moodys wry lunacy ahead of us.