This time The Muppets are going global. traipsing across the globe on a grand adventure evoking all the delightfully silly charm and sophistication of 60s crime and spy capers like The Pink Panther (1963) and Casino Royale (1967).
And there will be action and intrigue and no doubt humour and mayhem aplenty as Kermit indicated in an interview with Entertainment Weekly:
"The idea of this film is that our gang is on this global tour, and we're selling out these grand theaters all over Europe — in Berlin, Madrid, London — but we sort of get into a little bit of trouble when we run across my doppleganger. He's the world's number one criminal, Constantine, and he happens to look an awful lot like me."
The plot recalls in all the best ways The Muppet Caper (1981) which saw Kermit and the gang hot on the trail of a jewel thief, eventually emerging triumphant (of course) but only after much hilarity and over-the-top hi-jinks.
I'd expect that this movie will carry with it much the same spirit of that movie, and its siblings as well as their great comeback effort, The Muppets, helped along by the presence of James Bobbin as director and Flight of the Conchords songwriter Bret McKenzie who penned the Oscar-winning song "Man or Muppet?" from The Muppets.
Alas we don't have star and massive Muppets fan Jason Segel along for the ride, nor Amy Adams as his delightful love interest, but we do have Ricky Gervais as Constantine's evil sidekick (every cartoon-ish bad guy needs one), 30 Rock's Tina Fey as a Russian guard and Modern Family's Ty Burrell as an Interpol agent Jean Pierre Napoleon (MR Dunphy with a French accent? Yes please!), who will no doubt play the part of trusty ally to our intrepid and much loved Muppets.
And with a no doubt cracklingly good script by Bobin and Nicholas Stoller, who wrote the screenplay for The Five-Year Engagement, we will have a movie everyone will love as Bobin enthusiastically predicted in this statement from the official press release.
"It's great to be back working with the Muppets. Some of them even remember my name occasionally now. As for the movie, it's a tip of the hat to the old-school crime capers of the '60s, but featuring a frog, a pig, a bear and a dog – no panthers, even pink ones – along with the usual Muppet-y mix of mayhem, music and laughs."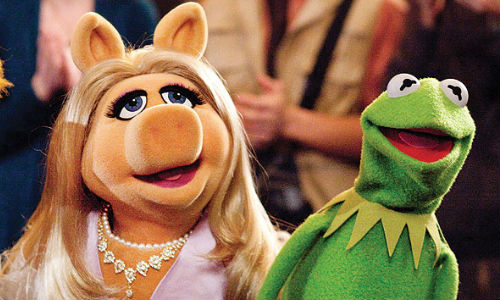 With the promise of some "surprising celebrity cameos", The Muppets … Again! is due for release on March 21, 2014 with filming already underway, according to the press release, "in London and in Hollywood, as well as in the famed Pinewood Studios in Iver Heath, Buckinghamshire, just outside of London."
All of that wonderful news already has me humming …
"It's time to play the music
It's time to light the lights
It's time to meet the Muppets …"
And I daresay I will be singing it all the way till March next year.