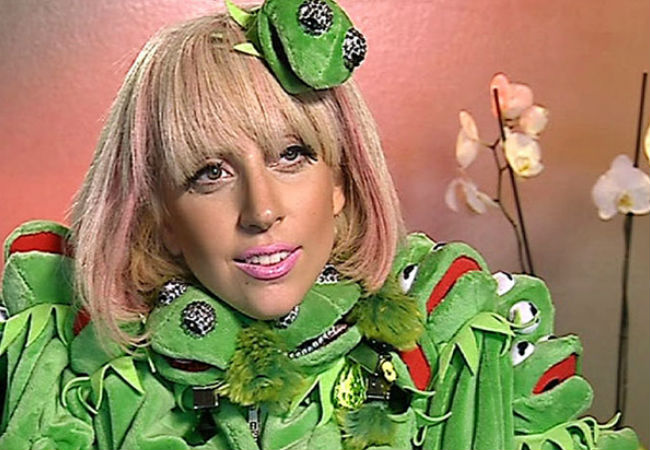 I have no idea how I missed this most unique of connections since I am a fan of both The Muppets and Lady Gaga but it appears the two doyens of the zeitgeist have been BFFs for quite some time now.
According to eonline.com, who announced that Lady Gaga recently wrapped a television holiday special with Kermit and the gang, the two go way back with Kermit accompanying Ms Germanotta to the 2009 MTV Video Music Awards while Jim Henson's Creature Workshop dressed her up in all manner of delightful fanciful pieces for her 2010 The Monster Ball Tour.
Lady Gaga even fashioned an outfit out of Kermit plush toys which she wore on German TV to protest against fur as a fashion accessory, and missed out on appearing in 2011's The Muppets by a whisker when her scene fell to the cutting room floor during editing.
And now they're back together in a big way!
(Relax Miss Piggy,that's The Muppets as a whole, not just Kermit, with Lady Gaga.)
Kermit is so excited that he doesn't seem to even mind if she wears them again:
"What an incredible opportunity!" Kermit the Frog gushed. "We have a long history with Ms. Gaga, so we jumped at the chance to do a holiday special with her. We won't even mind if she mistakes some of the Muppets for pieces of her wardrobe — again."
(source: abcnews.go.com)
According to a report posted on abcnews.go.com, the 90 minute special entitled Lady Gaga & the Muppets' Holiday Spectacular, will air on ABC on Thanksgiving (9.30pm-11pm ET, Nov. 28), and will feature not only Lady Gaga singing a duet with Kermit, as well as other songs from her forthcoming Artpop release, but a host of other celebrities like Joseph Gordon-Levitt, Sir Elton John, Kristen Bell and RuPaul making sweet music or hilarious comedy with their favourite Muppets.
It's bound to be an experience to remember, and the perfect way to see in the holiday season.
This is one time that it's very easy being green (and red, and whatever colours Lady Gaga chooses to adorn herself with).