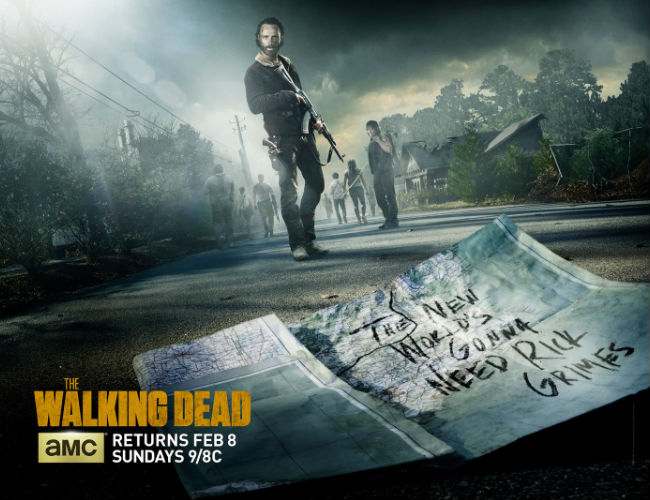 Way back at the end of November 2014 when The Walking Dead departed our screens for a leisurely two month mid-season break from the televised apocalypse, Rick Grimes (Andrew Lincoln) and his band of beleaguered followers were wondering quite why it was they were continuing to put one foot in front of the other.
Having survived another stoush with a survive-at-all-costs group in the heart of Atlanta which sadly resulted in the traumatic death of Beth  (Emily Kinney) – to be fair everyone is in it only for themselves; it's just that some of the survivor groups are a little worse behaved than others aren't they Terminites huh? – while simultaneously discovering that Eugene Porter (Josh McDermitt) is a big fat save-his-butt-from-the-apocalyptic-fire liar and does NOT in fact know a cure for the virus, they are feeling more than a little rudderless.
At this stage of the game, five years into surviving zombies, psychotic dictators and cannibals, to name just a few, there aren't that many options on the table.
However, as the map that forms the centrepiece of the just-dropped mid-season 5 return teaser poster makes clear, they're may be hope yet.
The map, with the encouraging note Abraham Ford (Michael Cudlitz) wrote on it for Rick just before he set off on his short-lived final leg to Washington D.C. to help Eugene find his non-existent cure still visible, and which was found and discarded by Morgan Jones (Lennie James), a man Rick first encountered in the season 1 episode "Days Gone By", seems to be pointing the group towards the Alexandria Safe Zone, which features heavily in the comic books.
As Troy L Smith points at Cleveland.com points out, the group, who really need a chance to recover and plot their next move in relative peace and safety, assuming such a thing exists without a threatening subtext, are likely to get there reasonably quickly:
"Michonne's speech about "some place where we can be safe" is ripped from the comic book after the group encounters a recruiter from the Alexandria Safe-Zone. During the last episode of "The Talking Dead," Robert Kirkman revealed the show would introduce its first openly gay character. That character will be Aaron, the Alexandria Safe-Zone recruiter from the comic book who is in fact a homosexual. Given that Michonne's speech is featured in the trailer, it will likely happen sooner rather than later this season. That will put the group on the road to Alexandria within the first few episodes, maybe the premiere."
Of course reaching the Safe Zone doesn't guarantee that their troubles are over with Troy pointing out there are a raft of possible villains waiting to make their lives a Governor-esque nightmarish mess once again:
"The popular answer to the question ["Who will be the next villain?"] is Negan, the most ruthless antagonist from Kirkman's comic book who comes into play once the group makes it to the Washington, D.C. area. While I've been begging for Negan to appear for quite some time, I think show, which is catching up to the comic book's timeline, will wait to reveal another big villain. There are theories floating around the Internet that the next pack of villains will be The Whisperers, a group of survivors who disguise themselves in zombie-skin a la Hannibal Lecter. The theory stems from a speech Morgan gave to Rick about walkers talking. As we know, walkers don't talk, but The Whisperers do."
Bottom line, life will continue to be a day-by-day, minute-by-minute proposition with a miracle required to restore some sense of purpose and maybe even a little optimism to the group (though the bluebird of happiness has lost since flown the coup so don't look for Michonne, played by Danai Gurira or anyone else to break into celebratory song any time yet).
The Walking Dead season 5 returns for its final 8 episode on 8 February 2015 in USA with Australia following close behind on 9 February.