Iy would entirely make sense if the beleaguered members of the 2nd Mass., led once again by the indefatigable Tom Mason (Noah Wyle), would feel like the nightmare is well and truly underway, thank you very much.
After all, Earth has been invaded by not one but two alien races – one, the Espheni, of nakedly imperialist intent; the others, the Volm, suspiciously altruistic-ish … or not  – humanity has been decimated, enslaved, attacked, and hounded day and night.
Not the stuff of which dreams are made exactly.
But apparently, if the tagline for season 4 of Falling Skies, is to be believed, things are about to get worse, much worse.
And it all seems to be centre on a new strategy of "If you can subjugate them, interbreed with them aka f**k the hell out of their DNA" and dilute their distinctive identity.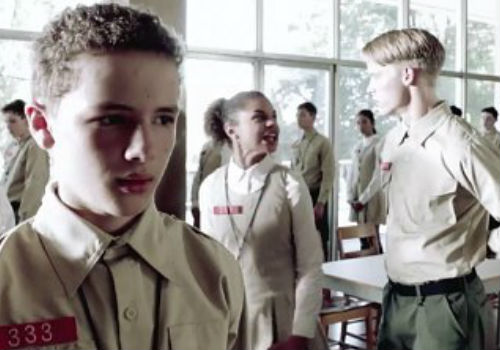 In the trailer, a distinctly Russell T. Davies-type creepy blue-eyed blond-haired woman of profoundly suspect intent, played by Scarlett Byrne, and possessed of "special powers and an unusual connection to the alien invaders" according to Zap2it, is seen urging humanity to accept "the only way, the better way … the future."
Naturally Tom is having none of this, responding to this insidious plan with an anguished warning –  "They change us until we're barely recognisable as human!" – his defiance no doubt emboldened by the scattering of the 2nd Mass. community to the four alien-infested winds.
It's a battle then not just for our lives and our planet but for our very sense of who we are, which raises the stakes even higher than before, and yes, it has to be said, manages to make the already nightmarish even more so.
But it doesn't look like the fight is over, and with new fighters onboard such as Mira Sorvino's Sara, a one time graphic designer who according to executive producer David Eick (quoted on TV Guide), is a "a ballsy, brash woman with a complicated past … proves to be a worthy foil — and ultimately a love interest — for Pope (Colin Cunningham)", it doesn't look like humanity is giving up the fight any time soon.
Falling Skies returns at 10/9C on 22 June 2014 on TNT.