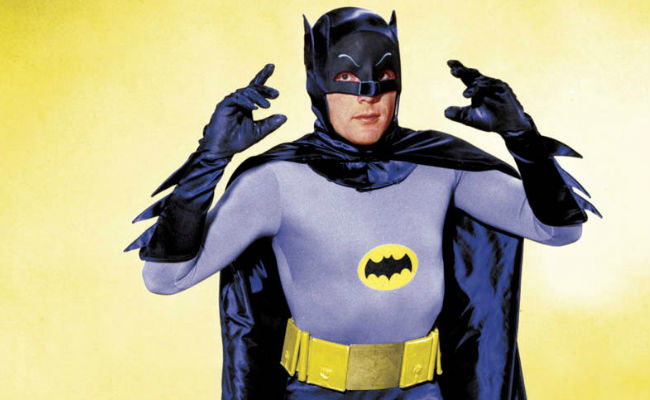 One of my fondest memories growing up was watching Adam West and Burt Ward fight the bad guys with a BIFF! a BAM! and a POWWW! in ABC's three season-long TV series Batman.
Camp, colourful and endlessly entertaining, it was the gloriously trippy Caped Crusader's yin to Christian Bale's yang, a melange of over the top abd guys, building-climbing oneliners and fabulously eye-catchingly bright action scenes.
To a young guy who loved everything bright and colourful, and as a grown, pop culture-loving gay man still does, Batman was a joy, and Adam West an exemplar of how you could be as silly as you wanted and simply make a character so compelling you want to keep watching and watching and watching, which is, of course, what I and so many others did for years after the show ended in 1968.
Adam West's death last week at the age of 88 saddened me because it marked the passing of a very talented actor, who managed to invest a very silly take on a character (which was fantastically funny) with so much gravitas so effortlessly that I think a lot of people underestimated him.
Much like ABBA, whose songs sounds so gloriously simple that some people assume, utterly erroneously, that they were put together over a few lunchtimes here and there, Batman was a deceptively simple show with a great many moving parts behind the scene; like all things that appear effortless, it was, in fact, the product of intense effort and creativity.
West was at the centre of this wonderful balancing act of the silly and the serious and managed it beautifully, even if some people actually underestimated how many talent it took to look that goofy.
I loved him as an actor, well beyond his Batman days, with his appearances on Family Guy as the mayor a particular highlight.
You will be greatly missed Adam West – for me the consummate Batman (this years The LEGO Batman Movie proves how popular some Batman frippery can be), a talented man who enriched my childhood, and convinced that the good guys could win and do it with colour, pizzazz and shark-dispatching tenacity.
If you want to find out more about Adam West, it's worth checking out this excellent documentary, available via Amazon (source: Laughing Squid)