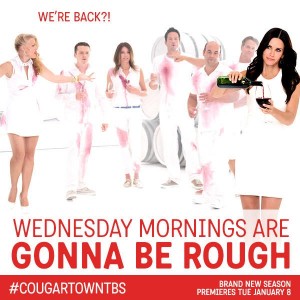 ew.com, which exclusively revealed the new TBS promo for Cougar Town, is pretty much right on the money when it says this is the "ultimate laundry nightmare".
(With the exception of trying to put a load of whites on when a pack of rabid juvenile wolverines break in and force you to include a brand new red t-shirt; yep … much scarier.)
Featuring the Eric Burdon and War song "Spill the Wine", to which Jules (Courteney Cox) slinks mischievously (yes it is possible to be both sexy and cheeky thank you) towards the camera with meaningful wine-throwing intent, this is the perfect way of telling the world that the red wine-quaffing friends we know and love are back on our TV screens from January 8.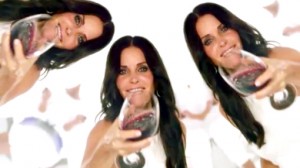 You can see the fabulous promo here and I would say the odds are pretty good that makers of new white clothes, and laundry detergent … and yes red wine … will be lining up at the door to TBS to throw their hard earned sponsorship dollars the basic channel's way.
Oh, and you may like this fun promo by the cast announcing they're back on January 8 too, featuring some mean guitar-playing and singing by cast member Josh Hopkins (who plays Jules' love interest Grayson Ellis) and innovative musical use of old red wine bottles by Courteney Cox, Busy Philipps and Christa Miller.