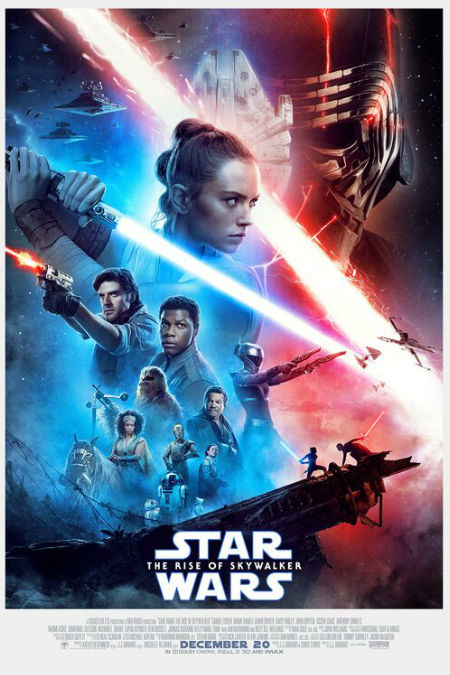 SNAPSHOT
Returning cast members for The Rise of Skywalker include Daisy Ridley, Adam Driver, John Boyega, Oscar Isaac, Lupita Nyong'o, Domhnall Gleeson, Kelly Marie Tran, Joonas Suotamo and Billie Lourd. Joining the cast are Naomi Ackie (Doctor Who), Richard E. Grant (Logan), Dominic Monaghan (Lord of the Rings), and Keri Russell (The Americans), who will also be joined by veteran Star Wars actors Mark Hamill, Anthony Daniels and Billy Dee Williams, who will reprise his role as Lando Calrissian. The role of Leia Organa will once again be played by Carrie Fisher, using previously unreleased footage shot for Star Wars: The Force Awakens.

In addition to directing, Abrams co-wrote the screenplay with Chris Terrio (Argo, Justice League). Kathleen Kennedy, Michelle Rejwan, and Abrams will produce, with Callum Greene and Jason McGatlin executive producing. Composer John Williams, who has scored every chapter in the Star Wars saga since 1977's A New Hope, will return to a galaxy far, far away with The Rise of Skywalker. (synopsis via Coming Soon)
One of the things that first attracted me to George Lucas's grand sci-fi opera Star Wars way back in 1977, was the epic nature of its storytelling.
It told an intimate story, one that involved good old fashioned notions of good and evil, but told it on an expansive scale, one rich with imagination, grandeur, spectacular and emotional resonance writ large.
While I haven't been as thrilled with the two instalments of the final trilogy as I'd hoped to be – honestly The Force Awakens (2015) and The Last Jedi (2017) were fun but felt a little bland; I much preferred Rogue One and Solo – I have high hopes for The Rise of Skywalker, the final trailer for which seems to harken back to all the grand and epic qualities that drew me to the saga in the very first place.
Consider the Force very strong with this one.
Star Wars: The Rise of Skywalker opens 19 December Australia and 20 December US and UK.