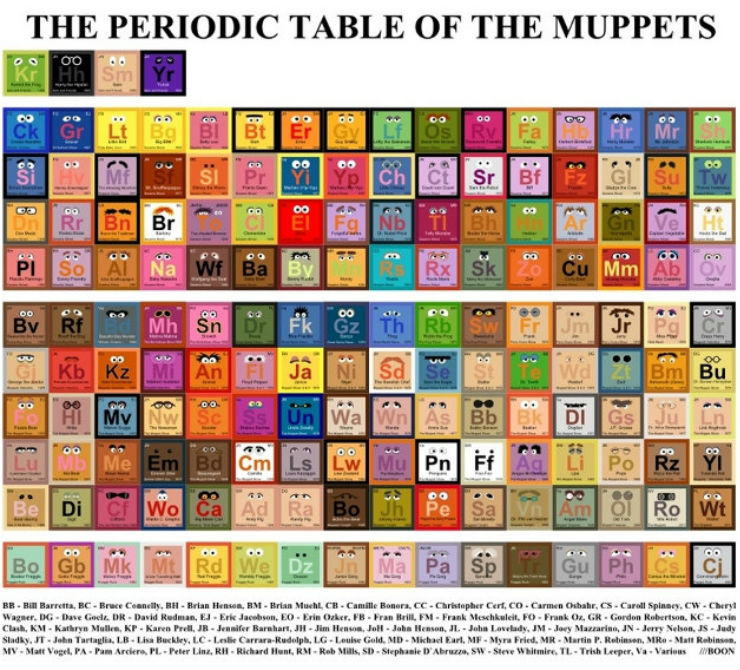 Have you ever wondered what The Muppets would look like as a periodic table that groups all manner of Jim Henson's much loved creations together?
No? Well neither had I.
But thank the gods of insanely original imagination that artist Mike Boon (aka Mike BaBoon) had, and did something about it!
This is how he explained on his site how it all works:
"Each square represents a different character and indicates the primary Muppeteer(s) for that character, as well as the year and production in which the character made its debut. Borders align with hair/hat colour, background aligns with skin/fur colour, and colour of the abbreviated name represents nose colour (for characters with noses that is).

The separate sections are based on the show the characters were either created for or most often associated with. The icons within each section are then organized by year of creation."
This one-of-a-kind tribute to The Muppets, who are due back on our televisions soon-ish in a new BBC TV show That Puppet Game Show and on the big screen in the 2014 movie, Muppets Most Wanted (previously titled The Muppets … Again!), is a sheer delight and available for purchase via Redbubble and Society6.
Beaker will be expecting you and Mike will thank you!