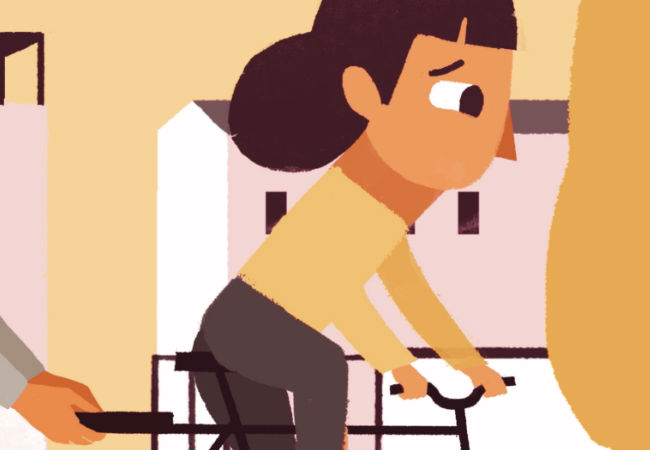 SNAPSHOT

In the wonderfully heartwarming animation "If You Fall" by Tisha Deb Pallai, a little girl named Lila is learning how to ride a bicycle, but is not yet ready to ride alone. As this is happening, Lila's parents, he a struggling artist and she a television news reporter, are finding themselves at odds due to the disparity between their respective income and time, causing d great deal of resentment. When Lila goes for her first solo bike ride, she ends breaks her leg but in doing so, repairs her fractured family. (synopsis (c) Laughing Squid)
As an extrovert, I am not usually accustomed to embracing less is more.
But in storytelling, certainly when it's as rich and poignant as in the short film If You Fall by Tisha Deb Pillai, who splits her time between Vancouver and Delhi, it can be everything, communicating so much with so little and enfolding you in a world with just a word here, a small but important scene there.
If You Fall is like a master class in this kind of narrative; it has just enough to create a beautiful sense of time and place, and characters you care about very deeply in an impressively short amount of time, but not so much that you lose yourself in excessive exposition or overdone storyline.
It is, in effect, a Goldilocks-style of storytelling that rewards you with an uplifting ending that feels real and earnt, not simply grafted on to please audiences, all of which makes it a beautiful and wholly-satisfying tale of love, family and healing … and the perfect way to kick off 2019.