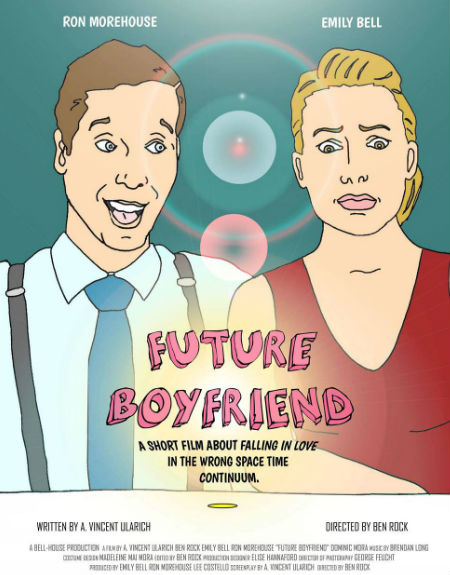 SNAPSHOT
Future Boyfriend, a short film by Bellhouse Productions, premiered at the Tribeca Film Festival in April 2016. The film, directed by Ben Rock and starring Emily Bell, Ron Morehouse, and 3rd Rock From the Sun's French Stewart, was adapted into a screenplay by Ularich based on his short play by the same name. The play had numerous productions around the United States, including the first Sci-Fest L.A., during their "Laugh Trek" comedy program. The Sci-Fest production starred Emily Bell and Ron Morehouse, and was directed by Meagen Fay. (synopsis (c) A Vincent Ularich)
The path to true love, delightful, sparkly, wonderful and deliciously overwhelming though it is, is never smooth now is it?
Quite how smooth it often isn't is beautifully illustrated by this delightful short film, Future Boyfriend, where a charming if slightly odd guy (Ron Moorehouse) from 2078 travels back in time on a one-way ticket to date a woman (Emily Bell) who has taken his fancy in 2016.
To explain how he knows she exists or why is he so smitten with her would be to give away far too much about a film that is all about taking risks, putting your heart on the line and finding out that your dreams may be realised in ways you never expected.
And yes, while it's true as Gizmodo notes, that future guy is a tad creepy in his approach, ultimately there's something sweetly charming and appealingly earnest about someone going to all that trouble and giving us much in the pursuit of love sweet chronologically-mixed up love.