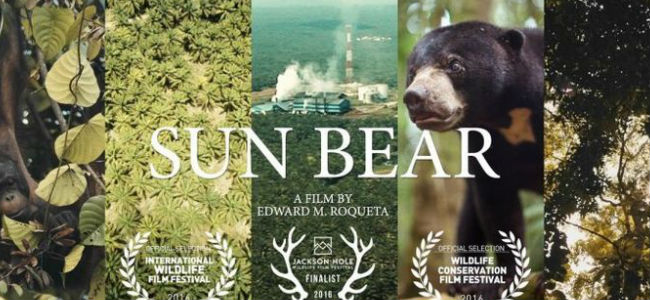 SNAPSHOT
Sun Bear imaginatively embodies the life of a sun bear and discusses the issues of poaching and habitat loss due to palm oil in Borneo from the bear's perspective.
It's all too easy these days to look at the state of the world and see only a giant amorphous mass of things going wrong.
But the reality is that every big ticket issue afflicting the planet on which we live from climate change, to environmental degradation, war, famine and disease, has a human (or animal) face, something that gets lost all too often in the undiscriminating big-picture melee of the modern 24/7 news cycle.
That's why the short film, Sun Bear, by Forest Clay Productions, which was funded courtesy of a National Geographic Young Explorer Grant, is such a masterstroke.
In this remarkably moving, visually-lush film, the whole ungrappable issue of worldwide deforestation is brought down to one very vulnerable species – the world's smallest bear species which is finding itself at the mercy of all kinds of pressures as humanity wreaks more havoc on its small corner of the planet.
You'll be profoundly moved certainly, but perhaps more importantly, well-informed, and able to come to grips with an issue that otherwise may seem too big and difficult to deal with or respond to.
With the film being selected for screening at film festivals including 2016 International Wildlife Film Festival, 2016 Wildlife Conservation Film festival and 2016 Jackson Hole WILD Film Festival, the message is getting out there in a powerfully intimate way, testament to the importance of not just shining a light on issues, important though that is, but shining it in such a way that real change is hopefully set in motion.