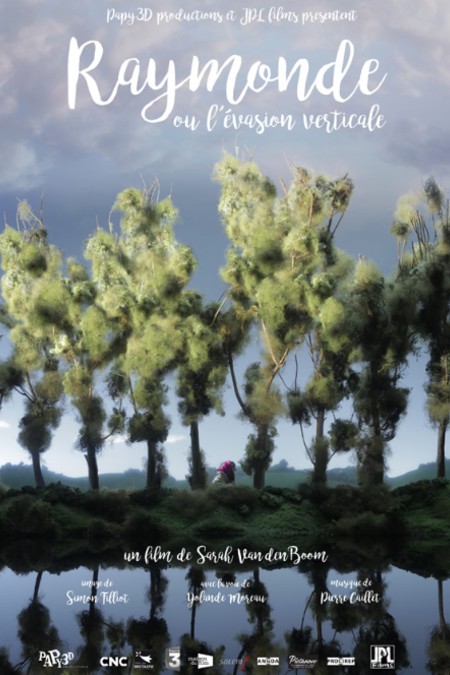 SNAPSHOT
"Raymonde is really fed up with peas, aphids, dirty panties and her kitchen garden to dig. After all, she would prefer sex, and love, and the immensity of the sky…" Raymonde or the Vertical Escape (also titled Raymonde ou l'évasion verticale originally in French) is a stop-motion animated short film written and directed by Sarah Van den Boom – a French animation film director and co-founder of the Papy3D Productions production company based in Paris. She has also directed the short films La femme-squelette and Dans les eaux profondes. Produced by Papy3D and JPL Films. (synopsis via First Showing)
If you were to hear someone say "I want it all" you might be tempted to think they are being far too greedy.
But in the luminously affecting French short film Raymonde ou l'évasion verticale or in English, Raymonde or the Vertical Escape, it is the heartfelt, truly moving cry of an owl-woman character named Raymonde (voiced by Yolande Moreau) whose small, lonely in her cottage in the French cottage has become far too much to bear.
Her clumsily endearing attempts to find love with the local postman constantly fail and her entreaties to God fall on deaf ears; that is, until one day when she is inspired to a wholly unique course of action that changes things …
This wholly beautiful, intimately real and grounded film, written and directed by Sarah Van den Boom, is a delight, inspired by those closest to its creator.
"The inspiration definitely came from my close family, but the process was very gradual. At first, I only had this picture in mind of an owl-woman character with a headscarf and rubber boots. I knew she was an isolated and lonely person living in the French countryside."
The result is an enchanting experience that speaks to what we have lost but also that which we might gain when we least expect it.
It's a joy and cannot help but affect you.