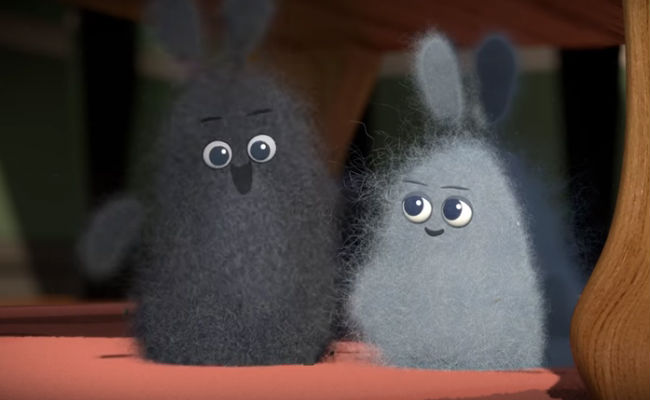 SNAPSHOT
Dust Buddies is a story about the friendship between two dust bunnies, Fuzz and Lint, who live peacefully under a couch. When an evil maid comes to clean the house and sucks Fuzz into her vacuum, Lint must overcome his fears and set out to rescue his friend. (synopsis via CG MeetUp)
There have been many titanic battles between unequal foes throughout the history of cinema but none I suspect have been more adorable or in the end more pleasing to the soul than the one enacted in animated short film Dust Buddies.
Created by Beth Tomashek and Sam Wade, from Ringling College of Art & Design, Dust Buddies is a story of bravery, friendship, facing your fears and devotion, set against the backdrop of a titanic battles as old as the ages – that of the cleaner and those being cleaned.
Now granted we don't often see anthropomorphised dust or grime or any of the many things that tarnish our palaces of domesticity, but so successful are Tomashek and Wade at bringing these usually-dismissed flotsam and jetsam to life that you'll barracking for Lint to rescue his buddy Fuzz with the sort of fervour you normally reserve for more conventional protagonists.
It's masterful filmmaking, capturing not just an engaging visual style but the very heart of buddy stories which in the end, if they're any good at all, are emotionally-redolent in a way that affirms our very humanity and remind us that what makes us human and makes sense of life are our connections to each other.
And that sometimes we have to fight to hang onto them; admittedly not against a foe as fearsome as a maid with a hungry vacuum cleaner but fight nonetheless.
Trust me you'll never look at cleaning the same way again, nor hopefully at the deep bonds you enjoy with family and friends, the kind that ultimately make life worth living.