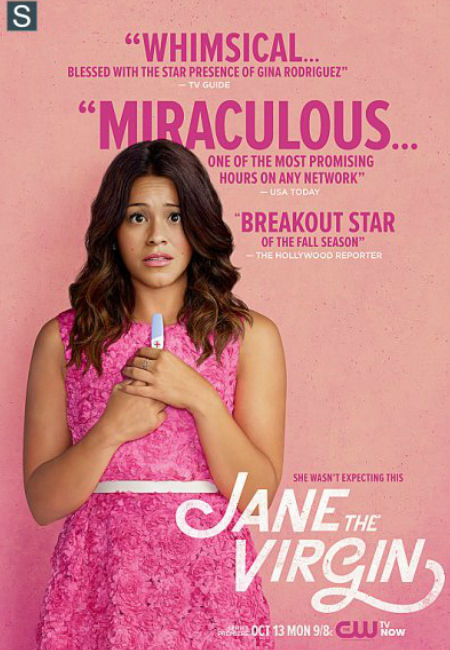 SNAPSHOT
Set in Miami, the series will detail the surprising and unforeseen events that take place in the life of Jane Villanueva (Gina Rodriguez), a hard-working, religious young Latina woman whose family tradition and a vow to save her virginity until her marriage to [her] detective [boyfriend] Mike (Brett Dier) is shattered when a doctor accidentally artificially inseminates her by mistake during a checkup. And to make matters worse, the biological donor is [Rafael – Justin Baldoni] a married man, a former playboy and cancer survivor who is not only the new owner of the hotel where Jane works, but was also her former teenage crush. (synopsis via Wikipedia)
Let's be honest – the premise of this series is gloriously over the top fanciful with Matt Webb Mitovich of TV Line humorously and correctly observing:
"No real-world scenario supports the premise by which she gets accidentally inseminated (with the thawed sperm of, coincidentally, onetime crush-turned-hotel magnate Rafael, played by Baldoni), so if you hold The CW to the same standards as Science Channel, this isn't your cup of sangria."
He goes to say though that "if you are willing to suspend belief for that pivotal (and hilariously played) examination room sequence — and you have mad ninja skills when it comes to programming your DVR during this highly competitive hour — you're in for a treat. Because even upon a second viewing (which Jane's medically unsound conceit demanded), this telenovela-tinged dramedy still charmed my socks off."
And he's spot on with his assessment of Jane the Virgin, which features soon-to-be-breakout star Gina Rodriguez (who invests the titular character with likeable earnestness and charm), a series that even with all the manic energy of the telenovela it is essentially created to be, possesses huge doses of heartwarming humanity, saving it from spiralling into a ridiculous melange of half-baked melodrama.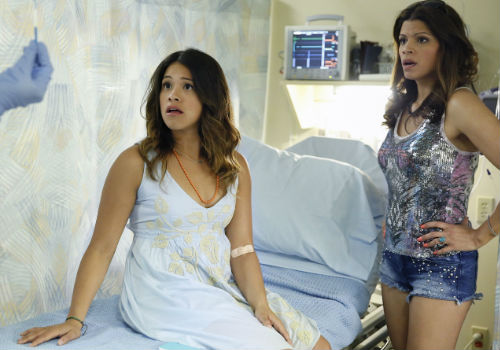 It reminds me in that respect of Ugly Betty, a show that never forgot that no matter how outlandish the plots might be, that they had to be anchored in some kind of authentic, believable human experience to be even remotely engaging or meaningful.
Jane the Virgin, which is going to have its fair share of wacky, soapy plot lines "including the arrival of the dad Jane never knew, an investigation policeman Mike is involved in that threatens to expose a key character's secret and, I am guessing, the eventual someday-maybe rekindling of Jane's aforementioned crush on Rafael" (TV Line), seems to have learnt that lesson well.
But even if it does forget to keep things real enough to be at least somewhat believable, I have a feeling that Gina Rodriguez and the rest of the extremely likeable cast – with the possible exception of Petra (Yael Grobglas), Rafael's scheming wife – will lend a sense of basic human decency and warmth that will see it through all the myriad twists and turns that looks to be heading Jane's rather delightful way.
Jane the Virgin premieres on CW Network on October 13, 9/8c.